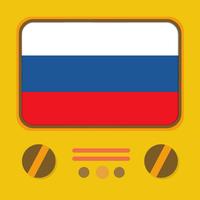 Россия телепередач (RU)
Free Get
Россия телепередач (RU) Description
ТВ Гид для России (RU). Найти все российские телевизионные каналы внутри приложения с до даты программы. Вот особенности:

• Удобный доступ с низким интернет-связи
• Возможность пометить как закладка / избранное канал, чтобы найти его очень быстро
• Все основные телевизионные каналы доступны
• Для каждой программы вы можете установить будильник, чтобы не пропустить
• Приятный дизайн совместимы на всех новых устройствах и с последней прошивкой
• Работает в вашей стране, так и за рубежом

Наслаждайтесь нашим бесплатно TV Guide App для России (RU)!

Лучший из российских телеканалов в одно удивительное приложение телевидения в прямом эфире программы!

The best of Russian TV channels into one amazing live program television app !
More Information
Language:

Afrikaans

Albanian

Arabic

Armenian

Azerbaijani

Bangla

Belarusian

Bosnian

Bulgarian

Chinese

Croatian

Czech

Danish

Dutch

English

Estonian

French

Georgian

German

Greek

Hebrew

Hindi

Hungarian

Icelandic

Indonesian

Italian

Japanese

Kazakh

Khmer

Korean

Kyrgyz

Lao

Latvian

Lithuanian

Marathi

Mongolian

Nepali

Norwegian Bokmål

Pashto

Persian

Polish

Portuguese

Romanian

Russian

Serbian

Sinhala

Slovak

Spanish

Swedish

Tajik

Tamil

Telugu

Thai

Turkish

Ukrainian

Urdu

Uzbek

Vietnamese

Zulu

More