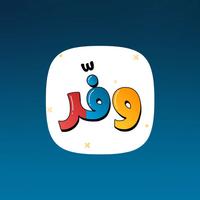 وفر (عروض وخصومات مصر)
Free Get
Screenshots for iPhone
More Screenshots for iPad
وفر (عروض وخصومات مصر) Description
تطبيق وفر هو تطبيق للهواتف الذكية. يعرض التطبيق أحدث العروض للسوبر ماركت والهايبر ماركت مثل) كارفور- بنده - هايبر وان - اولاد رجب - لولو هايبر ماركت - اكسبشن - كازيون - فتح الله - هايبر العابد - سبينيس - مترو ماركت - خير زمان - بيم وغيرها) وجميع ماركات الأدوات الإلكترونية والكهربائية والمنزلية.
مميزات التطبيق
• التطبيق متاح باللغة العربية.
• واجهه متميزة وسهله الاستخدام.
• يرسل البرنامج تنبيهات فى حالة وجود عروض جديدة.
• تحديث العروض بشكل فورى ويومي بمجرد صدورها.
• يمكنك التطبيق من حفظ العروض المفضلة لديك فى قائمة خاصة لتسهيل الوصول لها فى أي وقت.
• يمكنك من خلال التطبيق مشاركة العروض مع اصدقائك فى مختلف شبكات التواصل الاجتماعي.
• تصنيف العروض طبقا للتصنيفات المختلفة والأسواق.
• يمكن البحث عن العروض المتاحة لمنتج معين عن طريق البحث بإسم المنتج او جزء منه.
وفر وقتك وفلوسك وحمل التطبيق الآن.
-------------------------------------------
Wfr is an application available for smart phones.This application shows latest Promotions & Deals of the supermarkets and hypermarkets as (Carrefour, Panda, HyperOne, Awlad Ragab, Lolo Hyper market, Exception,kazion, FathAllah, AL abed Hyper market , spinneys ,Metro Market ,Kheer Zaman ,Beem and so on) all electric and electronic devices brands in Egypt.
Application Advantages:
• Application is available on Arabic.
• Unique and easy to use interface.
• App sends notifications to users even there is new offer.
• Offers updated immediately.
• The application enables you to save your favorite offers in a special list for easy access at any time.
• Application allows you to share offers with your friends on social networks.
• Classify offers according to different product types and markets.
• You can search for offers available for a particular product by searching for the name of the product or part of the name.
Save your time and money and download the application NOW!
وفر (عروض وخصومات مصر) 1.1 Update
تصحيح مشاكل فنية بسيطة.
More