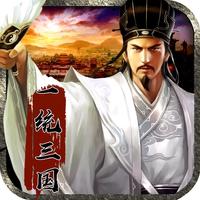 卧龙出山·主宰乱世——日式复古三国策略养成手游
Not Available
Removed
from the App Store
Screenshots for iPhone
More Screenshots for iPad
卧龙出山·主宰乱世——日式复古三国策略养成手游 Description
【游戏介绍】

在《卧龙出山》中,玩家将扮演一方主公,统领众多在三国中驰聘沙场的武将和运筹帷幄的谋臣,发展属于自己的势力,通过不断发展,招名将、巧布阵,持绝世之神兵,指点江山。天下三分,硝烟四起,乱世英雄梦,成就王者霸业!


全民沙盘策略挂机手游《卧龙出山》强势来袭!
群雄并起,智勇与权谋不断交锋,大战一触即发!
招名将、巧布阵,持绝世之神器战诸侯,
指点江山呼朋引伴,统帅三军,意气风发,
天地儿女情,权御之间,成就王者霸业,
不一样的挂机手游,不一样的三国荣耀!
天下三分,乱世英雄梦,万世基业由此起,
三国天下成霸业, 开启专属于你的三国时代!

【游戏特色】
激战三国,还原历史
——原汁原味还原三国经典战役,设置官职品阶分封制度,增加可玩性。在这血雨腥风的乱世三国中,享受万人敬仰,众人所望,这是财富,更是荣耀。那个人,是否就是你?

运筹帷幄,智取天下
——王者宝座,人人垂涎。城主之间,亦敌亦友,想在乱世中脱颖而出,考验的不仅是排兵布阵,更考验你把握大局的智慧。将自己的策略发挥到极致,必能在乱世三国中谋得一席霸主之位。

昊天神兵,威震乾坤
——神兵专属,助你破敌,勇如吕布,智如诸葛,尽待主公招募,助你成就千秋伟业。面对强敌,看似毫无胜算,实则暗藏玄机,鹿死谁手,尤未知。

军团城战,明争暗斗
——城池众多,人才济济,伐城掠地,群英荟萃。军团战中,各方势力暗中涌动,谁能在混战中带领兄弟杀出重围,谁能未运筹帷幄守住城池,历史由你来改写!

【联系我们】
如有疑问和建议请在评论区留言,我们将第一时间与您联系。

[game introduction]
National sandbox strategy hang hand tour "Wolong mountain" strong attack!
All men and men rise together, and wise and brave keep on fighting with their tactics.
The famous will and the skillful array are the masters of the world.
Guiding the rivers and mountains to join forces, commanding the three armed forces to be vigorous and energetic.
Between heaven and earth, and between children and kings, the king's hegemony is achieved.
Different hang hands tour, different Three Kingdoms glory!
Three points in the world, the hero's dream of chaos, the world's base business from this.
The Three Kingdoms become hegemony and open up the Three Kingdoms era that belongs exclusively to you.

[game features]
Fighting the three countries and restoring the history
The original campaign to restore the Three Kingdoms campaign, set up the official grade system and increase the playability. In the Three Kingdoms of the bloody storm, we enjoy thousands of people's admiration. That man, is it you?

Devise a strategy, take the world out of the world
The king's throne, everyone coveted. If you want to stand out in the troubled times, you will not only test your wisdom, but also test your grasp of the overall situation. If you bring your strategy to the extreme, you will win a hegemonic position in the troubled Three Kingdoms.

Haotian soldiers, Megatron
The soldiers are exclusive to help you defeat the enemy, brave as Lv Bu, wise as Zhuge, and do the best to recruit the Lord to help you achieve great success. In the face of a strong enemy, it seems that there is no chance of success. In fact, there is a hidden mystery.

War of Legionella
The city is numerous and talented. In the battle of the Legion, all forces are in the dark. Who can lead the brothers out of the encirclement in the melee? Who can not defend the city in the strategic way?
卧龙出山·主宰乱世——日式复古三国策略养成手游 3.0 Update
1.优化登录流畅性,登录进入游戏速度更加流畅
2.优化界面显示,活动界面新增特效显示
3.开启限时活动,新增开服活动,即日起开服后达到条件后免费领取海量奖励和礼包
4.新增三国名将,登录后即可免费领取三国名将伴随一起征战四方
5.修复游戏bug
6.更换游戏包装,更换了icon和五图
More
More Information
Language:

Chinese

English

More