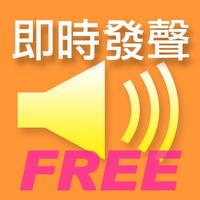 即時發聲
Not Available
Removed
from the App Store
即時發聲 Description
(Chinese Version)
即時發聲
看漢教育服務有限公司

「即時發聲」即時學習三文兩語,包括普通話、粵語及英語,利用文字轉換聲音實時播放,標準發音,配合不斷更新的真人發聲的潮流用語,掌握中、港、外國的文字對譯。

主要功能:
1即時發聲
預設3種語言可供選擇,包括普通話、粵語及英語
靈活學習外語,隨意輸入文字,可控制速度及音量,即可發聲
無限次播放及使用,每次最多可輸入10個中/英字,多聽必懂

2 潮語一題
搜羅坊間具人氣的人物、各類型品牌及電影名字等,包羅萬有
以輕鬆角度學習不同語言的對譯奇妙差異之處

(English version)
Text To Speech
KanHan Educational Services Limited

Real-time text to speech function converts text into Putonghua, Cantonese and English. Daily Vocabulary is another teaching tool for user to learn multi-languages through daily updates of trendy vocabularies and slang in recorded human voice. It is suitable for learner who travels across mainland China, Hong Kong and other English speaking countries.

Main Features:

Text to speech
3 Languages Selection: Putonghua, English and Cantonese
Easy & Simple language learning! Speaker volume and speed are under your control by simple key-in of English / Chinese!
Unlimited Usage! Support up to 10 words maximum per sentence (Chinese & English)

Daily Vocabulary
Vocabulary covers popular names for products, people, movies and services and colloquial terms and slang.
即時發聲 1.1 Update
- Improved stability
- Bug fixes
More