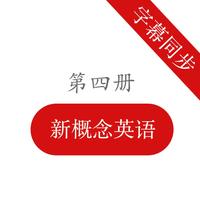 New Concept English Book
Not Available
Removed
from the App Store
Screenshots for iPhone
More Screenshots for iPad
New Concept English Book Description
The software supports text audio synchronous reading, click sentence pronunciation, click word translation, double finger zoom font (variable big and small), slide control progress, time off function, continue to play after lock screen, please download the more exciting content.

● The New Concept English textbook helps students master the four basic skills of English through listening to the basic skills of listening, speaking, reading and writing, so that students can maximize their potential in learning.

New Concept English Book 4 (Fluent English) Advanced Class
Suitable for the crowd: I have mastered the third volume of New Concept English, and I want to further improve the English reading ability; corresponding to the IELTS TOEFL core high frequency vocabulary and high frequency subject articles. The four volumes of Fluency in English cover more than 30 subjects such as culture, economics, philosophy, art, sports, politics, aesthetics, psychology, sociology, education, ethics, and astronomy. Exquisite and unique, the sentence structure is complex and changeable without losing its simplicity. At the same time, many articles contain profound philosophical, aesthetic and unique ways of thinking in Western culture, which makes this textbook a rare textbook for every learner who wants to truly master the essence of English language. The teacher will share with you the mystery. After full mastery, it is IELTS 7+ level.

In addition to retaining the essence of the original version, the new version adds the following important features:
● Adapted for Chinese English learners, adding vocabulary, text notes, practice explanations and reference translations of texts according to the needs of Chinese readers;
● Eliminate all outdated content, with outdated text replaced by new text with new exercises and illustrations;
● Adjusting the original teaching method is more conducive to students' ability to strengthen communication;
● The content is more concise and concise, canceling the cumbersome supplementary materials published in the past, and incorporating the essence into the main textbooks;
● The layout is enlarged and easy to read; each lesson is relatively independent, so that classroom teaching is available.

● New concept English recitation method

1 clear purpose, concentrate
Reciting a text or a statement that must be mastered, the most taboo is to look around, careless, and distracted. If it is a very simple text, it will still be a mistake after a few days of backing. This is definitely the reason why it is not intentional. As for the phenomenon of "forgetting before forgetting", it is normal. At this time, do not give up to this temporary difficulty and retreat.

2 determine the task, look for tips
Reciting a short article, just reading a few times is not feasible, you must be familiar with the degree of rotten melon. It can be shorter at the beginning, easier, and then adjusted to a certain extent. In addition, when you recite, you must pay attention to certain skills, read the contents of the text, understand the meaning of the text, not only will not remember and confuse, but also remember more and more.

3 adhere to the back, timely inspection
The more time you spend reviewing your reciting, the better you will remember. For example, texts or knowledge that have been recited in the morning, before going to bed at night and after getting up the next day, should be re-backed and re-examined on a Saturday or Sunday, and then back again after one month. In this way, it can be guaranteed that it will not be forgotten for a long time.
New Concept English Book 2.3.1 Update
1. Fix the flashback problem
2. Optimize the user experience
3 new international language
More