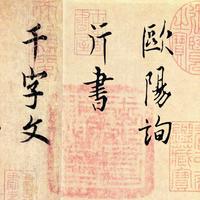 欧阳询行书千字文
$1.99
欧阳询行书千字文 Description
欧阳询,楷书可谓古今一人,而该篇行楷千字文,劲险峻美,也实让人叹服。此墨迹本现存辽宁省博物馆,弥足珍贵。清晰反映了古人行笔之气韵,更能让人加深对欧体楷书的认识。
-Single tap 单点动作:单字临习, 词句注释和临习演示页面。
-Double tap 双点动作:单列放大页面。
-每字演示书写过程。
-可导出书写结果。
千字文的传奇:梁武帝从王羲之遗字中取不重复千字,命周兴嗣编为韵语。一夕成文进上,鬓须皆白。作为国学入门经典的千字文内容所涉颇广,特稍加注释,以便理解。

The Thousand Character Essay is composed of 250 phrases of 4 characters each. The Emperor of the Liang Dynasty collected a thousand pieces of calligraphy work of Wang Xizhi, the most famous legendary calligrapher. And ordered Zhou Xingsi to compose these random characters into an essay. He is said to finish the composing over one night, but causing his hair completely turn white. And it has become a Chinese learning and calligraphy study must book ever since. This ink copy was written over 1400 years ago by Ouyang Xun, one the best calligraphers in the Tang Dynasty.
欧阳询行书千字文 1.6.6 Update
1. 修复双击后定位的问题;
2. 改进部分界面;
More