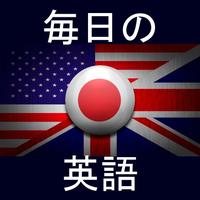 毎日の英語
Free Get
Screenshots for iPhone
More Screenshots for iPad
毎日の英語 Description
単語の意味が知りたいですか。 → 辞書を使う。
文章を訳したいですか。 → 翻訳機能を使う。
外国語を分析したいですか。 → 文法を習う。
語彙を覚える必要がありますか。 → フラッシュカードシステムを利用する。
本当に英語が話したいですか、そして、英語で考えたいですか。もし、あなたがネイティブスピーカーを理解したいなら、翻訳の必要なく本物の正しい発音で話した-
いなら、記憶だけで暗記したいなら、正にこのアプリケーションはあなたの為の物!

毎日の英語の各レッスンはアメリカやイギリスのネイティブスピーカーによって丁寧に作られたものです。トピックは日常生活に良くある状況に基付いています。

iSmartLanguageメソッドの特徴
* 完全に自然な学習法
* 暗記しない
* 膨大な量の文章を反復することで潜在的に文法も身に付く
* 辞書要らず(単語対単語翻訳が付いています)
* ネイティブスピーカーを理解し、正しい発音で話す能力
* 英文構築法が簡単に解る
* 学習プランは自分で設計(いつでも勉強したい時に勉強できる)

iSmartLanguageは簡単、かつ使いやすい。要らない不便は省いています。

無料サンプルレッスン
* 英語学習方法:8分、44文章、264ユニークワード(語彙)

コース全体の構成:
* 6.5時間の音声録音
* 4051ユニークワード(語彙)
* 全部で18レッスン、2728文章、35841単語

* 発音とスペル(ボーナスレッスン)、7分、18文章、158ユニークワード
* 不規則動詞(ボーナスレッスン7回)、42分、1,377文章、1,873ユニークワード

無料で、何の義務も負うことなく、アプリケーションの機能を試し、コンテンツを確認することができます。その後、実際に学習を開始する場合には、ご希望のレッスンの音声トラックのみ、あるいは全レッスンセットをご購入いただけます。全レッスンセットは値段的にもお得な上、個別には購入できないボーナスレッスン全セットなどの特典が付いてきます。

学習法やアプリのより詳しい情報をお求めなら、いつでも気軽に商品サイトwww.iSmartLanguage.comをご覧ください。

ご意見、ご要望はアプリから直接送信してください。-この方法でのみご返答可能となっております。このアプリが気に入った方は、App Storeに feedbackを残してください。どうも、ありがとうございます。
毎日の英語 5.1 Update
Thank you for your feedback - we process all of them.
* optimalization for iOS 9
* minor corrections in the database
* new function in the application
* minor improvements in the application
If you have any comments, send them support@euvit.com please. That is only way to let us know. We appreciate your positive reviews. Thank you.
More