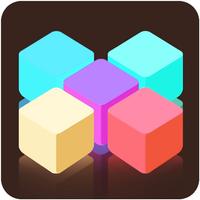 1010 Block Puzzle - Free To Fit
Free Get
1010 Block Puzzle - Free To Fit Description
1010 Block Puzzle Free To Fit is very easy and simple, but addictive puzzle game.
Drag & Drop blocks to create and destroy full lines on the grid both horizontally and vertically and keep the blocks from filling the grid on screen.
1010 Block Puzzle Free To Fit is a challenging puzzle game with a simple gameplay. It is the classic 1010 puzzle you like but with more shapes,more fun!
Fun and very addictive puzzle game which will keep you entertained for hours


The brain game that improves your concentration puzzle game that anyone can enjoy.

Features :
- You can remove the block and record the competition.
- Support for Leaderboards
- No time limit, take your time and do the move
- Simple brain exerciser
- Clear and simple UI

How to play:
-Touch a block to select it.
-Drag and drop the elements into the board.
-Fill the line horizontally or vertically to clear the line.

Enjoy this game!! Warning: This game is addictive and a lot of fun!
1010 Block Puzzle - Free To Fit 1.0 Update