Games
»
123 Animal Phone Lite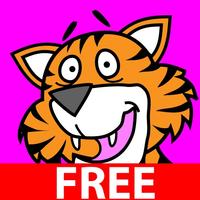 123 Animal Phone Lite
Free Get
123 Animal Phone Lite Description
DOWNLOAD 123 Animal Phone Full Version

123 Animal Phone is toddler tested and approved app with custom designed user-interface for young minds. Designed and developed by parents of young children.

123 Animal Phone is more than just a game for your pre-schooler, kindergarteners and elementary school aged children. It is a sophisticated educational tool for kiddos in your life. It provides hours of laughter, fun and learning.

Your children learn how to use a phone, identify numbers, recognize and call their favorite animal friends.

Kids might not be old enough to call people from your contacts list, but they certainly will enjoy calling from 123 Animal Phone. Keep the kids entertained for hours while you wait at the doctor's office, shop, cook or take a nap.

Key Features
- Develop fine motor skills
- Learn to recognize numbers
- Learn to match animals with numbers
- Develop ability to identify animal sounds
- Enjoy the color changing background
- Easy and fun to use - requires no adult supervision!

Do you want to hear a cow moo, duck quack, tiger roar and frog ribbet? Download the Full Version from the App Store!

Support
If you have any technical difficulties or questions, please email support@einslab.com before posting a review.
123 Animal Phone Lite 1.0 Update