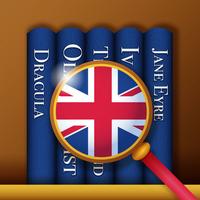 19th Cent. British Literature
$1.99
Screenshots for iPhone
More Screenshots for iPad
19th Cent. British Literature Description
Learn British literature and prepare for academic competitions!

The app's three modes are:

Mode 1: PLAY GAME
Use the autocomplete to select answers. Race against the timer to answer each clue. Correct answers let you climb the Fact Mountain of 1800's British literature! Clues get easier until answered.

Mode 2: STUDY WORKS:
Choose one of the 36 works and study its 30 clues from hardest to easiest. Many clues contain hyperlinks for deeper study that allow you to read the works for free!

Mode 3: USE FLASH CARDS
Select a flash card set, ranked from hardest (30) to easiest (1). Then play the game with only your set of flash cards. Correct answers let you climb the Fact Mountain of British literature!

To switch between modes, tap the X at the top right.

RECOMMENDATIONS: Newbies should use flash card set 1 until they win the game twice. Then go to flash card set 2, etc. Study the paintings as desired. After winning twice with flash card set 5, alternate between playing the game and using higher-level flash cards.

See the app's Help page for info on average, good and expert scores.

Also try our other Fact Mountain apps or visit www.factmountain.net !

Please review the app for us so we know what to improve for future editions.
19th Cent. British Literature 2.3 Update
Added clue counters for both games.
More