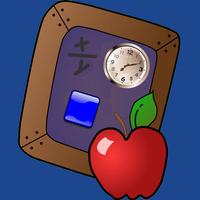 1st Grade Time Fractions Shapes And Colors
$0.99
1st Grade Time Fractions Shapes And Colors Description
1st Grade Time Fractions Shapes And Colors is designed for children 3-6 to get your child ready for school. 1st Grade Time Fractions Shapes And Colors app has a variety of activities to broaden a child's mind.

In this application a child will learn how to tell time on an analog clock. There are 4 Quizzes available such as On the hour, Half hour and Quarter hour. You can also take a combined quiz to see if the child is progressing.

Children will also be quizzed on simple fractions such as 3/4, 1/3 etc. There is also an area where the child can practice seeing shapes and colors. Quiz items such as the Square, Octagon, and Rectangles are easily shown and when touched, will hear the sound. Children will also get to practice with colors such as Red, Blue, Green, etc. When touched, the sounds will play as well.

A quiz is available to check recognition of colors and shapes when the child is ready.

*No IAP*

Made for iPhone, iPad compatible.
1st Grade Time Fractions Shapes And Colors 1.0 Update