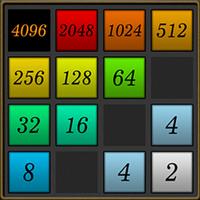 2048 Expanded Puzzle
Free Get
Screenshots for iPhone
More Screenshots for iPad
2048 Expanded Puzzle Description
Beautiful version of the famous puzzle 2048. Training for the mind and a good mood. The game is like the Fifteen Puzzle.
- Colorful and unique interface.
- Several game modes: 3x3, 4x4, 5x5 and 6x6.
- Ability to return the previous move.
- The game does not end when the result is 2048 points.
- Saving the best result and the game process.
You do not have to start anew the game, if you had to exit the application, the game process is automatically saved in all modes.
Rules:
In each round, tiles of face value "2" appear (with a probability of 90%) or "4" (with a probability of 10%). The player can throw all the tiles of the playing field into one of 4 sides. If, on dropping, two tiles of the same denomination "strike" one on top of another, they are combined into one, the face value of which becomes equal to the sum of the connected tiles. After each move, a new tile with a nominal value of "2" or "4" appears on one of the free section of the field. If the location of the tiles or their nominal value does not change when moving along the screen to either side, the move is not made.
If there are more than two tiles of the same denomination in one row or in one column, then when they are dropped, they are connected from the side to which they were directed. For example, the tiles (4, 4, 4) in one line after the turn to the left will turn into (8, 4), and after the turn to the right - in (4, 8).
For each connection, the goggles increase by the denomination of the resulting tile.
If the move is wrong, if you press the back arrow, you can return the previous location of the tiles, the score of the points will also change to the previous one.
The game ends in defeat, if after the next move it is impossible to perform the action.
2048 Expanded Puzzle 1.0 Update