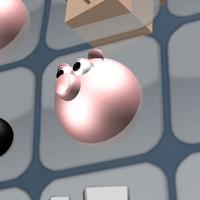 243 Patriot Pigs Slots
Free Get
Screenshots for iPhone
More Screenshots for iPad
243 Patriot Pigs Slots Description
243 easy win lines! Piglets vs Birds themed. Wildcard bonus. Scatter bonus. 100 credit bet. Monster wins. Maximum slots action. Play max lines and any combination you see is a winner. Wildcard eggs on reels 2 and 4 match any symbol. Plus, scatter match the castles for up to a 25 auto spin scatter bonus. 25x your bet is all it takes to enable everything for one of the easiest to win slots, period. Wildcards win even more, one will multiply your win by 2x, two will multiply your win by 4x. During the scatter bonus, wildcards boost your win by 4x and 16x respectively.

Piglets vs Birds Battle:
The piglets are tired of being attacked by those nasty birds and are fighting back. Patriot Pigs have a cannon and know how to use it, and should that fail, they do their best to repair the damage. Your winnings control all the action. Win birds and they attack the castle, win cannon balls and the piglets get more cannon balls to attack the birds with. Birdhouse wins are full of random birds, launching an angry barrage on the castle. Piglet wins on the other hand enables the repair crew, lowering a hard working pig to repair loose stones, more piglet wins, the longer he will continue his repairs. Win the castle symbols and the pigs get their castle rebuilt, to start all over again.

Pay Lines:
While 243 lines offers the most winners, and costs 25x your bet, 99 and 3 lines of play are also available for 15x and 5x your bet. For 99 lines, winning symbols must be within one row of each other, for 3 lines, symbols must be on the same line. For any number of lines, winning combinations do not need to start at the left, they may be anywhere on the line. Easy.

Features:
243 easy win pay lines.
Dual wildcard reels.
Cartoon piglets and birds castle battle theme.
Dual game, slots and physics castle destruction.
Designed exclusively for the iOS.
Dynamic, high resolution 3D animated display.
iPad and Retina display optimized.
Dual processing core optimized.
Fun energetic sound effects.
Loose payouts.
Five reels, seven symbols.
Up to 100 credit bet.
Full payout table and pay line display.
High Rollers Game Center support.
Automatic credit reset when you are broke.
No need to buy credits.
243 Patriot Pigs Slots 2.2.3 Update
iOS 10 upgrades. Improved payouts. Performance improvements.
More