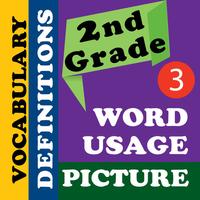 2nd Grade Academic Vocabulary # 3 for homeschool and classroom
$0.99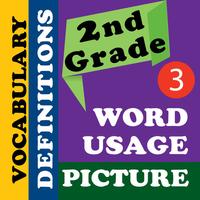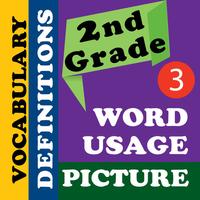 2nd Grade Academic Vocabulary # 3 for homeschool and classroom
$0.99
Screenshots for iPhone
More Screenshots for iPad
2nd Grade Academic Vocabulary # 3 for homeschool and classroom Description
2nd Grade ELA #3 is the third in the series of apps that cover "Words" that a 2nd grader needs to know. In this app, words, their meaning, and example sentences are presented. The example sentences put the words in contexts so that the students can actively think about how the words are used. These words, meaning and example sentences are also read aloud so that kids can follow with ease. This is especially helpful for kids who are dyslexic, kids having challenges forming sentences, and kids who are exploring words and how to use them.

The app also has quiz sections that let kids pick the correct choices of words, make correct associations to form sentences. The quiz sections will also help parents, and teachers evaluate kid's knowledge of words they have learnt.There are 10 sets of practice drills with 15 questions per set.

This covers 2nd grade ELA common core curriculum and Texas curriculum. Teachers and parents can also leverage this app in preparing for exams with students. This series of apps can be used as foundational tools to help 2nd graders get a good handle on English words and their usage.

APP FEATURES
+ 170 words - parts of speech, definitions, and usage specific for 2nd grader.
+ Simple Illustrations - for visual learners.
+ Voice Narration - for auditory learners.
+ Interactive Quiz sections.
+ Curriculum based hand chosen sets of quizzes.
+ Inspiring feedback to students.

Please use these questions to help students learn test taking techniques - choice elimination, out of context, clues in the question etc.

Here are the words covered in this app:

Nouns:
task, snack, picture, dream, tooth, parent, liquid, experiment, chart,
distance, glyph, sport, edge, fruit, string, weight, worker, breath,
animal, dirt, disk, germ, boy, form, place, feature, stress, rain, dock,
mold, result, server, length, hour, ocean, clue, barn, pattern, weather, year,
phonograph, family, plane, gravity, years, flyer, system, car, prism, country,
birth, jar, nerve, back, blast, dollar, strength, math, camp, label, map,
stages, dishes, park, point, cube, team, purse, whistle, size, glue,
church, goods, letter, reason, straw, cycle, boxes, card, beach, herd, thinker

Adjectives:
urban, fast, deaf, biggest, bravest, due, slowest, most, short,
cheerful, fair, dead, great, high, funniest, few, grateful, little,
old, tough, greater, suburban, such, too, rural, stink,
same, thoughtful, silliest, smartest

Adverbs:
when, badly, bravely, here, proudly,
before, just, why

Verbs:
sift, fold, brew, consume, found, argue, shrink,
contrast, whip, sweat, rushes, live, record, bend,
fling, washes, drew, pull, represent, back, burn, display,
serve, justify, shift, grew, dashes, honk, verify,
identify, wait, break, tell, know, draw, stack, thank,
know, determine, cough, give, stamp, chew, think,
left, march, starch, arrange


Nth Fusion educational apps are extensively used in home schools, public and private schools, including use in several school districts in the United States, and educational institutions in Europe, UK, Australia, Canada, and many countries around the world.

Please contact us if you would like to buy collection of educational Nth Fusion apps. Our apps are also available at 50% discount to educational institutions through Apple. Visit http://www.apple.com/itunes/education/ to participate in the program.

With this important learning app, your child is sure to be prepared for the learning challenges that lie ahead.

Visit our website (http://nthfusion.com) for additional apps from Nth Fusion.