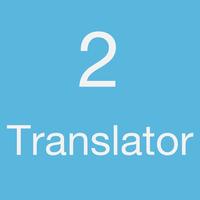 2Translator for Hotels
Not Available
Removed
from the App Store
2Translator for Hotels Description
The 2Translator system of applications is designed to facilitate free communications, without an interpreter, with those who do not speak your language. The revolutionary idea of communicating using two devices eliminates language barriers. Download the app on two Apple devices (iPod, iPad, or iPhone). Establish a connection between the devices. Pass one of the devices to the person you would like to talk to. Just speak into your device and the other person will receive the message in his or her language. Similarly, on the second device your conversational partner can dictate and send messages in his/her own language with automatic translation into your language.

The system gives ability to hotel staff :
- taking and passing on messages to foreign guests
- dealing with special requests from guests (like booking theatre tickets or storing valuable items)
- answering questions
- dealing with complaints or problems


This version of the app supports the following languages:
English, French, German, Spanish, Russian, Portuguese, Italian, Czech, Chinese, Korean, Japanese, Polish

The use of two devices makes communication as easy as possible. You do not need to pass the phone to each other to communicate, or even to be near each other, as is required by other applications. The 2Translator system is an irreplaceable tool for long conversations: you can have conversations for hours. The 2Translator application has a huge area of use: communication in tourism and business travels without an interpreter, communication with foreign relatives and business partners, communication at international trade shows, service for foreign visitors in hotels and stores, and so on.

The app is very easy to use: run the application on 2 devices, connect the devices via Bluetooth. Select the language to be translated into on each of the devices (for example "Russian > English" on the first device and "English > Russian" on the second one). Pass one of the devices to the person you would like to speak with. Speak into the first device – your speech will be recognized and automatically translated into another language (the "Voice Input" button). Send the translated message to the second device (the "Send" button). The "Say and Send" button allows for automatic recognition, translation and sending to the second device after you have dictated your message. The "Translate" button will translate the text, which you entered from the keyboard in the window on the left, to the other language, and will display it in the window on the right. After that, the message can be sent using the "Send" button. Both original text and the translation are shown for all messages.

Since the app uses the Bluetooth communication channel, all messages within the application are transferred instantly and are absolutely free.

You will need an Internet connection in order to operate the voice recognition and translation functions.
2Translator for Hotels 3.0 Update
More Information
Language:

Dutch

English

French

German

Italian

Japanese

Korean

Portuguese

Russian

Spanish

More