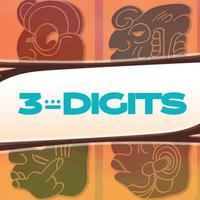 3 Digits
Not Available
Removed
from the App Store
3 Digits Description
Calculating takes on a whole new meaning in this fast paced counting game!
Everyone knows 1 + 1 = 2. But did you know Dot + Line = 6? Use the ancient Maya's remarkable number system to translate numbers, but watch out for the timer!

Features
• Fast-paced
• Challenging
• 3 difficulty levels
• Realistic graphics
• Fascinating facts about the ancient Maya built in
• Easy to learn, fun to play

Build math skills and learn the Maya's unique base 20 number system! Players take their math skills to the next level when they call upon the ancient civilization's revolutionary numerals—shell, dot, and line—to translate randomly generated numbers in this competitive mental-math challenge. Fascinating facts about the ancient Maya are intertwined with gameplay, making 3 Digits an immersive, engaging and cross-curricular learning experience. Players must use their understanding of properties of operations with multi-digit arithmetic, the significance of place-value, and number system bases in this fast-paced challenge. Math has never been so much fun!

About Dig-It! Games®
Discover a new way to learn! At Dig-It! Games, we believe in the power of games to promote critical thinking, independent learning, and cultural understanding. Our games incorporate age-appropriate content in math, science, social studies and language arts into fun, interactive and engaging learning experiences. Through our seamless blend of fun and learning, we seek to foster the joy of intellectual discovery and inspire kids to think differently about learning.
3 Digits 1.0.2 Update
Version 1.0.2 corrects a few bugs.
More