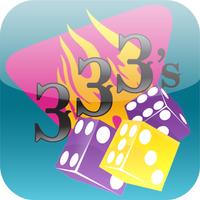 333's
$0.99
333's Description
HELLO, DICE PLAYERS! 333's is a fast-paced, rapid-rolling dice game that will give you hours of fun! It's so easy to play that If you can count, you can play 333's! Roll against the computer, play in a circle of friends, or check out the competition on Game Center - either way, you'll have a blast playing our dice game. What's so cool about 333's? Check it out:

• Roll 333's on an iPhone or an iPad
• Customize each game with one of seven themes
• Each theme plays its own custom music and toggles on/off
• Funky, colorful 3D graphics
• Shake or tap your device to roll the dice
• Brag about your score on Facebook, Twitter, and LinkedIn
• Track your 333's achievements on Game Center
• Perfect way to spend your work break, commute, or your professor's lengthy lesson! (Kidding!)
• Super easy game play for all ages

333's is also available as a table game! Yes! Perfect for a night with friends! Find out more about it on our site, including how to win everything thrown into the game kitty and how to score a ThreeZo! Take 333's with you to every party and you'll find some down and dirty dice competition - and maybe walk away the winner!

The object of the 333's game is very simple: Have the lowest score at the end of the game. In the app version, you do this by tapping on every 3 and the lowest value of every die that's randomly rolled out in your turn. A 3 rolled counts as a zero - so make sure you always tap every 3. The computer tallies everyone's fast play within the scoreboard and in Game Center. Complete rules are in the app's game settings.

Check us out online at Roll333s.com where you'll also find links to our Facebook, LinkedIn, and Twitter. We'd like to meet you on Game Center, so share your name and your 333's scores! Watch our pages for upcoming contests and winners' pictures!

Just remember to ROLL LOW and roll 333's every day!
333's 1.2 Update
* Performance optimization
More