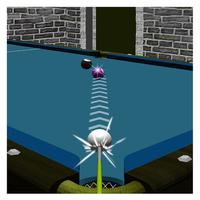 3D Billiards Snooker Pool
Free Get
3D Billiards Snooker Pool Description
An absolute necessity for Pool Table fans!


Want to play pool Billiard? Can't locate any quality billiard on the iPhone market? Play this 3D pool Table for free and you'll never need to leave your phone. It's a Challenge for your perfection and test of your brain so if you want to be the Champion of this marvelous pool game start practice right now!


Sharpen your Skills and take them to a net level in the practice arena. Perfect your shots and expert the specialty of potting the ball. Get acquainted with the various spins this 3D Game brings to the table.


Take on the Computer in various levels. The Game has exciting new tables and all sort of cues to help you pot the ball. The Game Physics is very realistic and tempting.
This 3D Game is a new and exciting Entry for all Pool Table Lovers in iPhone for free. If you love Billiard then try it and prove yourself.


The best 3D pool game is here! The ultimate addictive fun pool game.
Challenge your friends to matches or play against the AI players in the best pool game.
Real Pool 3D is one of the most realistic and enjoyable pool games available on mobile.


Welcome to snooker and 8 ball game! we have developed the 8 ball pool snooker game because we love ball games. and we will keep improving the snooker game so it always fits your needs.


Game Features :


- Both snooker and ball 8 pool in one game.
- The possibility to play against your friends and against the ai.
- Three difficulty modes : easy pool player, normal pool player and hard pool player.
- Snooker and ball 8 pool practice mode is available.
- Different snooker and ball 8 pool tables to choose from.


Play Snooker is not just a game but a skill full task, Play Pool 3D Snooker Pro is going to be new sensation in the pool of snooker game play on app store.
Plays snooker friends! Play Pool 3D Snooker Pro game; it's free on iPhone mobiles. Developer proudly brings an interactive game play of snooker in our latest launch Play Pool 3D Snooker Pro, surely one of the most realistically intuitive 3D snooker and pool games on app store.
Interactive 3D rigid body physics based game play with close to real graphics specially designed for snooker players (experts) and beginners.
Download Play Pool 3D Snooker Pro and start playing snooker in an interactive game play quickly, easily and smoothly. To make it exciting a new cue ball control allowing you to perform more advanced shots as in back spin, top spin, left spin, right spin and ball swerve. All controls are physics based following the law of physics and according to real human based play of snooker. We' are sure you will go to play it till late.
3D Billiards Snooker Pool 1.0 Update