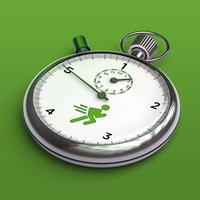 5 Choices Quickstart
Not Available
Removed
from the App Store
5 Choices Quickstart Description
This tool makes it easy and fun for participants in FranklinCovey's 5 Choices to Extraordinary Productivity workshop to apply the principles they have learned and get great results.

This app works ONLY for people who have attended the 5 Choices workshop, received an access code, and set up an account on the 5-Week Quickstart website. If you have the access code, you can set up your account by going to www.the5choices.com/quickstart.

Then you can use this app to:

• Easily track progress on your 5 Week commitments.
• View charts of your progress in Weekly and Daily Q2 Planning and Fueling Your Fire.
• See all the badges you have earned.

Additional features are available on the full 5 Choices quickstart website.

FranklinCovey's The 5Choices to Extraordinary Productivity solution inspires participants to apply a process that will dramatically increase their ability to achieve life's most important outcomes. Supported by science and years of experience, this solution not only produces a measurable increase in productivity, but also provides a renewed sense of engagement and accomplishment. For more information go to www.the5choices.com.
5 Choices Quickstart 1.0.1 Update