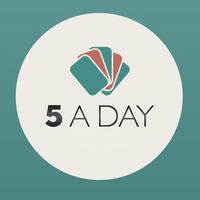 5ADAY
Free Get
5ADAY Description
Pass the CFA® 2015 Exams with the Review app from 5 A Day Prep! (No registration required)

Contents:

1. Free product: A sample of our study product for the CFA® L1 Exam which comprises of a selection of 53 study cards drawn from across the CFA® L1 curriculum (that's literally over 10% of the content!).Our free sample also include complete material for Readings 1 and 2.

2. In-app products: Comprehensive CFA® L1, L2 and L3 study cards that offer up-to-date and complete coverage of all 18 study sessions.

BONUS: A success manual is made available to all our users with our free product edition which REVEALS the only strategy that works on the CFA® L1 exam every single time.

How do the 5 A Day Study cards help you ace the CFA® Exams?

For the CFA® L1 Exam we offer 350+ study cards that covers the latest 2015 June and December CFA® Level 1 syllabus. It may be hard-to-believe, but we managed to compress 3000+pages of content into a pack of cards and eliminated nothing in doing this!

For the CFA® L2 and L3 exams we offer study card packages similar in structure to our L1 cards. Please try out our free sample to get a better idea of what we offer.

Product Features:

By creating a "pack of study cards" based on 5 scientifically proven principles of memory-retention we created a product that was not only a highly effective way to remember concepts before, on and after exam-day but also created a much more portable and less daunting study solution that you can prepare with anywhere, anytime.

What are these 5 principles of memory retention?

* SPACE OUT LEARNING: Depending on your game plan study as few as 5 high impact review cards at a time
* REINFORCE CONCEPTS: Review the cards as many time as you need to reinforce learning
* CUSTOMIZE YOUR STUDY PLAN: Because no study plan works for everyone, we recommend that you create your own. Whether you plan to cram at the very last minute or have several months left before your exam, our cards are designed to seamlessly fit in with your game plan.
* ENGAGE VISUALLY: The 5 A Day study cards are visually a class apart compared to all other CFA® prep material and you can see this in our free sample. We have adopted a highly visual and easy-to-read content style to ensure that your prep experience is highly engaging and productive
* GAUGE YOUR PROGRESS: Our indexing has been optimized so that you always know exactly how much material you've covered

Unique Features:

* Freehand highlighting- Unlike other CFA® apps, you can write anywhere on our product, use your finger or stylus to annotate and make your own notes- just like you would do on a hard copy
* Add typed post-its, notes, clippings to notes: Again anywhere on our product
* Thumbnails/ Contents Menu/ Search: Use page thumbnails/ Contents and the in-edition search tool from the menu to find what you need when you need it
* Starred Search- Pull out all your highlights,notes and bookmarks by clicking on the star search icon on the thumbnails menu

Need a hard copy of our app?

We are able to ship our product in print version to any country within 10 working days. Visit our shop at 5adayprep.com to place orders

Required Disclosure:

The CFA Institute does not endorse, promote, or warrant the accuracy or quality of the products or services offered by 5 A Day Prep. CFA Institute, CFA® and Chartered Financial Analyst® are trademarks owned by CFA Institute.
5ADAY 4.1 Update
- Branding update
- Minor bug fixes and performance enhancements
More