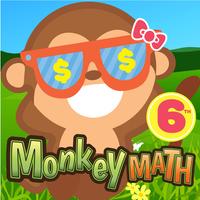 6th Grade Math Curriculum Monkey School Free game for kids
Free Get
6th Grade Math Curriculum Monkey School Free game for kids Description
Basic 6th Grade Mathematical the largest essential collection of educational activities based on the US National Common Core State Standards on App Store for middle school student.

This 6th Grade Math apps provide extensive learning math solutions which parents support, teachers and students to analyze and whereabouts learning needs in a delight and activate formation.

Sixth Grade Math Overview: They are introduced to Understand and solve problems.
- Apply and extend The Numbers System Operations
- Absolute Value
- Ratio and Relationships
- Algebraic Structures
- Data Analysis
- Expressions and Equations

Encounter our other educational apps 6th Grade Math Curriculum Monkey School on the Apple App Store. Our apps are available for 1st Grade, 2nd Grade, 3rd Grade, 4th Grade, 5th Grade, 6th Grade, 7th Grade in English Language, Math and Science. Our apps acquiesce with the US National Common Core State Standards for Kindergarten and PRE-K.
6th Grade Math Curriculum Monkey School Free game for kids 1.0.3 Update