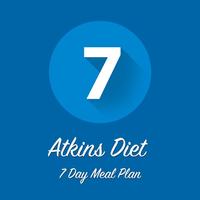 7 Day Atkins Diet Meal Plan
Free Get
7 Day Atkins Diet Meal Plan Description
Atkins diet is discovered to focus on the diet having low-carbohydrates. The fundamental understanding of this diet is to lose weight avoiding the food that contains carbs. However, proteins and fats are allowed in whatever quantity an individual wish to have it. This diet requires to follow a plan regularly without skipping the schedule. Whether you are at work or at home it is possible that you forget to have your food as per plan due to other priorities. Therefore Lauruss infotech has designed 7 days Atkins Diet diet plan app that will keep you on track and will be always with you as a reminder.

Atkins Diet is for the ones who want to:
** Maintain weight loss **
** Lose weight **
** Achieve good health **
** Disease prevention **

This app will also allow you to maintain the shopping list where you can store items that you have plan to eat during the diet.

The science behind Atkins diet is to burn glucose, or sugar that is stored in the body. If you follow it sincerely than results are inevitable in just 7 days of diet.

Please seek medical advice prior to commencement.

Download the app now and adopt Atkins diet immediately.
7 Day Atkins Diet Meal Plan 1.0 Update