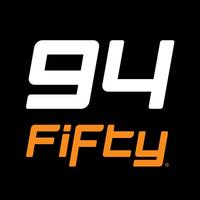 94Fifty Basketball
Not Available
Removed
from the App Store
94Fifty Basketball Description
The 94Fifty Basketball app is designed to work with the 94Fifty Smart Sensor Basketball and SmartNet (Tracks Shot Accuracy).

Get Your Game On.

94Fifty Smart Sensor Basketball compatible with: iPhone 4S (and later), iPad 3rd Generation (and later), and iPod Touch 5th Generation (and later).

The 94Fifty Smart Sensor Basketball and App tracks field goal % (with the 94Fifty SmartNet), measures muscle memory that the human eye can't see, learns the strengths and weaknesses of players at any level, adapts as the player improves, and provides basic, intermediate, and advanced level training to build better shooting and ballhandling skills – fast. It's like having the best coaches in the world with you every day of the year.

Regulation size ball that works with the 94Fifty Basketball app: The sophisticated technology is shrunk and completely concealed within the regulation size, weight, spin and bounce basketball. Add the 94Fifty SmartNet to you shooting experience and track shot accuracy with the Smart Basketball and App. The free downloadable app lets users choose from hundreds of different options to improve skills.

Highlights:
· Track Field Goal % - The addition of the 94Fifty SmartNet with your 94Fifty Smart Basketball allows you to track makes and misses automatically within Skill Training shooting activities.

· Take it anywhere. Completely mobile Bluetooth connections with 90 Foot (30 Meter) range from the ball to mobile device.

· Easy on/off. Dribble the ball 4 times to activate, the ball will put itself to sleep with no activity to conserve power.

· Shot Arc Analyzer. Soften your shot for more consistency by learning to shoot with ideal arc.

· Shot Release Speed Timer. Increase scoring opportunities with more shot attempts by always shooting at game speed.

· Shot Backspin Analyzer. Improve accuracy by developing a strong wrist for better follow through and a shooters touch.

· Dribble Power Meter. Become more versatile by learning to dribble harder under pressure with either hand.

· Wireless Rechargeable Battery. simply place it on the charging pad and it watch the blue light turn on.

· Rugged, weather proof, indoor/outdoor synthetic leather skin.

Instant Feedback: Visual and audio voice feedback will correct flaws in milliseconds on every shot and dribble. By giving instantaneous feedback, players can quickly learn how to adjust mechanics or address flaws with completely unbiased data. Let anyone in the house become an expert trainer.

Adaptive Workouts: The app adjusts as players improve and increases skill difficulty from playground up to pro level. Players begin at the Playground level and work through a choice of ball-handling, shooting, or total player workouts. Each level adds new drills and more difficult metrics to move onto the next level.

Develop Your Own Skills at Your Own Pace: Whatever skill is most important for the player, 94Fifty can measure it and suggest ways to improve. The free downloadable app will count dribbles, dribble force, shot release speed, shot arc, and backspin for whatever skill the player wants to improve.

Head to Head Competition: Automated, real-time scoring and leaderboards determine the winner for up to five players. Pick from four different competitive games, then choose from up to 50 drills to see which player has the best skills. See who can get the most dribbles in 20 seconds, or earn bonus points for who can dribble fast with dribble power. Shooting competitions give bonus points for shooting with better shot arc or faster shot release speed. Current leaderboards display winners, and historical win-loss standings let's users claim bragging rights. Add Headstart points to make things interesting between age groups.

See Your Progress: Track daily and all-time bests. Sets goals for more than 50 drills and competitions. Let small successes every day lead to long-term achievement.