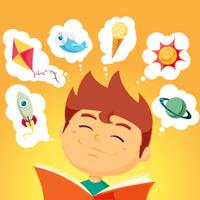 ABC Draw! Learn alphabet games
Free Get
ABC Draw! Learn alphabet games Description
Play and learn how to write all letters of the ABC alphabet and the numbers 1-10 with app. User practice essential phonics and handwriting skills as they play four exciting and fun games per letter and number – as an extra they learn words associated with the letters!

Handwriting, ABC Draw! Learn alphabet games is an game for you, People will learn everything about abc alphabet while playing game, learning alphabet and tracing abc worksheets.

Key features of Handwriting, ABC learning
- Educational games for FREE
- Simplest way to learn abcd
- Bright, colorful graphics
- Beautiful cartoon animation of animals
- All pronunciation by professional voice-over artists
- Background music is researched seriously
- It is the best way to help their people learn the letters

Handwriting, ABC Draw! Learn alphabet games includes three main subjects.
1. Learn ABCs
- People will play game to learn letters easily
- Learn the correct English pronunciation of vowels, consonants

2. Writing letters and alphabet worksheets
ABC Draw! Learn alphabet game will help the you:
- learn way for writing the alphabet letters
- tracing letters on the board, blackboard
- writing uppercase letters and lowercase letters
- following the guide signal after each ten seconds

- joyful people learn to read letters
- an unusual combination of user drawing games for free, alphabet learning games
- educational games
- games free
- learn alphabet (abc learning letters)
- drawing apps, ketchap, kettchapp

Let's Play! Try it today to enjoy watching learn and have fun at the same time!
ABC Draw! Learn alphabet games 1.0 Update