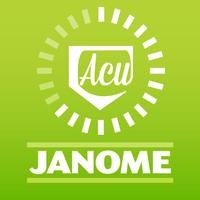 AcuMonitor
Free Get
AcuMonitor Description
The AcuMonitor app allows you to check the current status of embroidery work on your iOS device using Wi-Fi. You can check embroidery progress even if you are away from the machine. With AcuMonitor, you don't need to sit by the machine anymore. While the machine is embroidering, you can go and do other things.

AcuMonitor is compatible with the following sewing machine models:
* Memory Craft 15000 version 2.11
* HORIZON Quilt Maker Memory Craft 15000
* SKYLINE S9/atelier 9 version 1.10

Link with Sewing Machine
* Check embroidery progress on your device.
* Check machine status.
* View a list of all thread colors for the design which is being embroidered.
* The amount of time remaining until the next thread change can be checked.

Status check
The status of the following items is displayed with messages and icons:
* Embroidering
* Cutting
* Ready to sew
* Changing thread
* Changing needle
* Stopped
* Complete
* Thread breakage
* Locked
* No connection

Other features
* A function which displays the needle drop point making it easier to check the current sewing position.
* A magnifying function that enables even large designs to be checked in minute detail.
* In the demonstration mode, the app's planned operations can be checked even when not connected to your sewing machine.