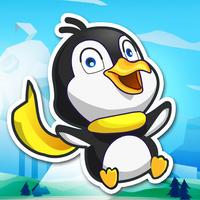 Adventures in Ice World - Happy Hoppy Penguin
Free Get
Adventures in Ice World - Happy Hoppy Penguin Description
Adventures in Ice World - Happy Hoppy Penguin (Ice World Penguin) is the latest fast-paced platform thriller featuring an adorable penguin hopping on the ice in North Pole. Your goal is to guide the penguin to run the farthest. Beware of the hungry shark in the water below.

Instructions:
* Tap on the screen to make the penguin jump or double jump
* Avoid to fall in the water

Features:
* iOS universal app for iPhone, iPad and iPod Touch with retina display
* Cute character and beautiful HD quality graphics to appeal younger gamer
* Game Center integration for leaderboard
* The only IAP is the one-time purchase of the Remove Ads

NOTE: This game has modest difficulty that is suitable for younger players.