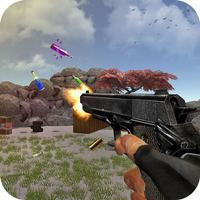 AE & Army Field Training Camp
Free Get
Screenshots for iPhone
More Screenshots for iPad
AE & Army Field Training Camp Description
Every Country is having fully trained Navy Seals, Commandos, Sergeants, many high ranked Majors, and Colonels. Your Country also needs trained Sergeants, Seals etc.
You have to train yourself with bottle shooting, Dummy target shooting, and Obstacle pass training. Bottle shoot and Dummy targets shooting will increase and make your aim perfect while obstacles will help you to learn to crouch, jumping and climbing different obstacles.
Every war has its own fear so you have to learn that there is no fear of anything.

You will have fun as much as you will train hard. So pick the gun and start your battle training now. let's start training hard to fight hard. Pass all the obstacles with crouching, jumping, climbing and then Aim steady to shoot all the bottles and dummy targets. Your Country's Army needs fully trained Navy, Commandos, Seals, Naval Army and Sergeants. Serve your country with full pride and with deep distinction Train hard War hard. Start your super hero training as soon as possible.

Sharpshooters are the very important person of any battle. They save everyone from the backside or the front side of any military war without missing any bullet. Learn the military shooting with multiple guns on multiple types of targets to become a shooter. If you want to be a hero lets pick up your gun right now and start your army training. Heroes of any battle or war will always be remembered for centuries. This training is the best change you got in your next fight. Everyone now and then a combat will begin you have to gain enough knowledge to save yourself.

Game Features:
* High Definition Graphics and Sounds.
* Reality based Physics.
* Designed for everyone.
* Difficult and easy training.
* Easy controls.