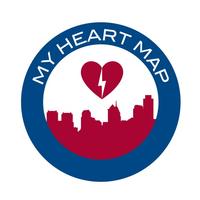 AED MyHeartMap
Free Get
AED MyHeartMap Description
AED MyHeartMap Mobile is an app designed to raise awareness about automated external defibrillators (AEDs) around you and allow you to find these in the event of an emergency.

The app can be used to locate nearby AEDs, verify AEDs in the database, or report new AEDs.

If someone around you collapses and stops breathing, call 911, start CPR (push hard and fast in the center of the chest). Send someone to get an AED. Using the app, you can look at the map feature to find AEDs in the your area. You can also or enter an address or zip code to browse AEDs in the vicinity.
We have not mapped all AEDs so you may not see a nearby AED when needed. Just continue CPR until help arrives!

Found an AED that isn't part of our map? Help us crowdsource the database via the "Add" function. Enter some basic info, snap a photo, and submit it. Pending validation, the AED will become part of the map, and other users will be able to find it in an emergency.

This app was built at the University of Pennsylvania by the MyHeartMap team, an interdisciplinary group of health professionals at the Penn Medicine Social Media and Health Innovation Lab. Contact: myheartmap@uphs.upenn.edu.
AED MyHeartMap 1.0.1 Update