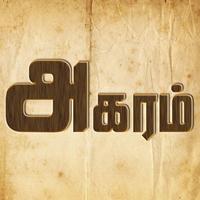 Agaram
Free Get
Agaram Description
App for kids to Learn Tamil.

Tamil alphabets consist of Vowels, Consonants, compound forms and one special character akh. In Tamil language the vowels are the life of
the entire alphabetic scripts. Vowels combine with consonants to form compound alphabets.

The Apps will be a boon for kids, to learn tamil alphabets and master them.

The graphical learning gesture with the audio makes learning a simple and fun process.

The APP have 6 section which includes Vowels, Consonants, compound forms, Colours, Time Periods and numbers in Tamil.

Vowel involves Learn, Practice and Test.

Learn section:

A pictorial representation of each vowels.

Practice

The touch feature allows to write the script to practice it, the method to write the alphabet will be displayed on top left hand corner.
Erase option helps to clear the illegible script.

Test

Test section will evaluate the kids acquired skill level in writing.