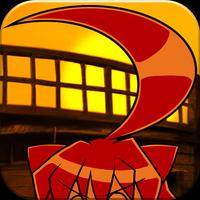 AHOGE CHANBARA
Free Get
Screenshots for iPhone
More Screenshots for iPad
AHOGE CHANBARA Description
Master the path of the ahoge, with just your finger!
Simple controls to pick up and play! Wacky Battle Action Game!

Hard boiled battles collide with silly moe cuteness in this unexpected comedy-action game!

As all serious otaku these days know, "ahoge" refers to the little sprig of hair often seen popping up from an anime character's scalp.
Now, you can wield an ahoge in battle for a hair raising game like no other!
Wacky yet cute enemies appear one after another... Knock em out with your ahoge before things get hairy!
Use the simple controls to attack and defend at will in these ahoge battles where the loser loses... their hair!

Features:
- Simple controls: use just one finger!
- Brandish your ahoge in exhilarating action packed battles!
- Cute characters with lively and smooth animation
- Pluck or be plucked... Defeat formidable opponents, and ahoGET their ahoge!
- Funny, cute, and weird cast of memorable characters
- A humorous mash up of otaku culture with Japanese chanbara style samurai cinema
- Over 50 varieties of wacky ahoge to collect
- Fun, poppy sound and music is easy on the ears
- If you're about to topple midway in your journey.... just use a handy item!
- Unlockable achievements for all the completists out there!
- Show your friends who's boss via Game Center!
- Tweet your favorite ahoge to your Twitter account!
- Beat extra challenges to unlock cute new costumes!

What fate awaits after these hot blooded ahoge battles...?
Download now and get that finger moving to find out!



Acknowledgment:
This software makes use of the following open source codes.

Tremolo v0.08

Copyright (C) 2002-2009 Xiph.org Foundation
Changes Copyright (C) 2009-2010 Robin Watts for Pinknoise Productions Ltd

Redistribution and use in source and binary forms, with or without
modification, are permitted provided that the following conditions
are met:

- Redistributions of source code must retain the above copyright
notice, this list of conditions and the following disclaimer.

- Redistributions in binary form must reproduce the above copyright
notice, this list of conditions and the following disclaimer in the
documentation and/or other materials provided with the distribution.

- Neither the name of the Xiph.org Foundation nor the names of its
contributors may be used to endorse or promote products derived from
this software without specific prior written permission.

THIS SOFTWARE IS PROVIDED BY THE COPYRIGHT HOLDERS AND CONTRIBUTORS
``AS IS'' AND ANY EXPRESS OR IMPLIED WARRANTIES, INCLUDING, BUT NOT
LIMITED TO, THE IMPLIED WARRANTIES OF MERCHANTABILITY AND FITNESS FOR
A PARTICULAR PURPOSE ARE DISCLAIMED. IN NO EVENT SHALL THE FOUNDATION
OR CONTRIBUTORS BE LIABLE FOR ANY DIRECT, INDIRECT, INCIDENTAL,
SPECIAL, EXEMPLARY, OR CONSEQUENTIAL DAMAGES (INCLUDING, BUT NOT
LIMITED TO, PROCUREMENT OF SUBSTITUTE GOODS OR SERVICES; LOSS OF USE,
DATA, OR PROFITS; OR BUSINESS INTERRUPTION) HOWEVER CAUSED AND ON ANY
THEORY OF LIABILITY, WHETHER IN CONTRACT, STRICT LIABILITY, OR TORT
(INCLUDING NEGLIGENCE OR OTHERWISE) ARISING IN ANY WAY OUT OF THE USE
OF THIS SOFTWARE, EVEN IF ADVISED OF THE POSSIBILITY OF SUCH DAMAGE.
More Information
Language:

English

Japanese

More