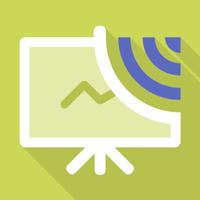 AirDash Enterprise - mobile team presenter
$1.99
AirDash Enterprise - mobile team presenter Description
AirDash is the new presentation platform for iPads. With AirDash you present spontaneously, freely, independently, personally and - if you want - without a beamer. Communicate eye-to-eye with participants, without distracting laptop barriers.

UP TO 16 IPADS
AirDash synchronises your presentation screen with up to 15 additional iPads. All 16 iPads can be connected via the integrated wireless-LAN (WLAN) interface.
Alternatively, up to 5 iPads can be networked without WLAN via the Bluetooth interface.

MESSAGE FUNCTION
Via the integrated email client you adapt a pre-formulated invitation and - on request, together with your presentation - conveniently send it to all participants in seconds.

PRESENTER OR PARTICIPANT
Present as presenter or simply enjoy the presentation as participant.

PERSONAL PROFILES & PARTICIPANT OVERVIEW
Participants can create a personal profile with photo beforehand.
An overview of all profiles can be viewed on all iPads during the presentation.

MULTILINGUAL
AirDash can manage up to 23 different versions of a presentation and from these versions offer the suitable version to each participant, e.g. the presentation in his/her own language.

DOCUMENT CONTROL & SECURITY
By selecting the 'public' or 'private' option you determine beforehand whether the participants can keep the document on their iPads after the presentation or whether it will be automatically deleted after the presentation.
In addition, in 'private' mode each participation requires confirmation by the presenter.

VERSATILE DOCUMENT IMPORT
Import documents into your presentation via Dropbox, URL, email or iTunes.

MULTIPLE DOCUMENT FORMATS
You can present PDF, Keynote, MS Powerpoint and Powerpoint Extended documents.

AIRPRINT
With AirDash you print your presentation directly from within the presentation on all AirPrint printers in your WLAN.

ACCESS CONTROL
In 'public' mode, participants obtain automatic access to your presentation via dial-in. However, with access control you also exclude unauthorised persons from participating.

MONITOR INTERFACE/BEAMER INTERFACE
You can also connect an external monitor or a beamer via a VGA or HDMI adapter. Simply activate or deactivate the connected monitor or beamer via 'one-touch'.

PAGE PREVIEW
With small preview images conveniently and with overview, page through your PDF document.

PERSONALIZED LASER POINTER
As the presenter, control the integrated 'laser pointer' with a simple finger gesture. All the other participants can track the movements of your laser pointer on their iPads; a presenter page shows participants the name of the presenter.

DIGITAL REQUEST TO SPEAK
Participants can request to speak via 'one-touch'. The presenter receives a discrete graphic alert The presenter can also suppress requests to speak via 'one-touch.

PRESENTATION ENABLE
You can also disable your presentation. So that participants have the possibility to page through the document independently and at their own pace.

MODERATION TRANSFER
You can easily transfer an interim right to moderate to other participants. Thus you can transform one-sided presentations into communicative and lively discussions.

NOTES
Use the integrated digital keyboard to make important notes during the presentation.
A separate note can be saved for each presentation.

PRESENTATION TIMER
The integrated presentation timer with its Start, Stop, Pause, and Reset functions permits optimal time management for each participant.

DRAWING TOOLS
As presenter, use the integrated drawing tools and draw freehand sketches in different colours and line thicknesses.
Your sketches will be presented simultaneously on all participating iPads.
AirDash Enterprise - mobile team presenter 1.2.1 Update
iPad Pro support
Bug fixes and improvements
More
More Information
Language:

English

German

More