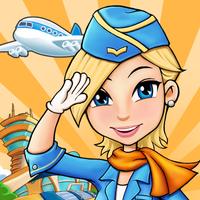 Airport Terminal for iPad
Free Get
Airport Terminal for iPad Description
Airport Terminal for iPad is a highly addictive time management game brought to you by the developer of the bestselling Are You Alright? and Amy's Burger Shop series.

Run your own airport in a number of famous cities around the world can be a lot of fun. Help Penny to manage the airports from check-in to boarding. Her dream is to visit all the airports around the globe. Can you help Penny to fulfill her dream? You have to carefully plan for your passengers so they can board on time with comfort and ease.

FULL VERSION FEATURES:

> Two-parts gameplay will bring you two distinctive experience: Check-in Lobby and Restricted Area

> Up to 9 different countries to visit

> 50 stages with different competitive challenges

> More than 150 normal and special upgrade options

> Wide range of unique passengers; each with their own personality

> Time extension items allow you to plan your own strategies

> 8 different mini games to keep you busy

> Support Game Center with achievements and leaderboard

Try out Airport Terminal for iPad for FREE and if you really enjoy it, you can upgrade to the full version easily!

****************

Follow Meridian on twitter:
http://twitter.com/MeridianDE

Like our Meridian Facebook page:
http://www.facebook.com/MeridianDE

Meridian Channel on YouTube:
http://www.youtube.com/user/MeridianChannel
Airport Terminal for iPad 4.0.0 Update
Airport Terminal supports iOS 11 now!
Due to the change of game data structure for iOS11, your saved game data will be lost if you are upgrading Airport Terminal from an older version. You can restore your purchase of Full Version and Double Score for free. (Gold Clocks and Mileage Credits cannot be restored as they are consumable IAP's. We apologize for any inconvenience caused.)
Please visit www.meridiande.com for more details on purchase restoration.
More