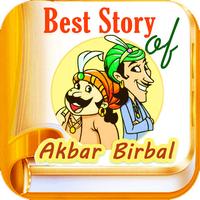 Akbar Birbal Stories
Free Get
Akbar Birbal Stories Description
Akabr Birbal stories in Hindi are rich and popular since time immemorial. The stories are an integral part of the glorious Indian heritage that have deeply influenced the growth and development of children from all generations. This application present the best More than 70+ stories already collection of Akbar Birbal funny for moral stories. These stories are written in simple English and improve their reading skills in a fun way.

Short stories in India have their origins in oral story telling which were handed down from one generation to the next. Short stories tend to be more concise and brief. Just like short stories from different countries and languages, short stories in India talk about different kinds of social, cultural and political issues while also tapping into a large audience which enjoys topics of love, romance, comedy and action.

Other forms of short stories include the exchanges by Akbar and Birbal, many of which have become folk traditions and are an integral part of the Indian tradition. The fables of Panchatantra are extremely popular even today and are considered to be as old as the Rigveda.

Birbal was an advisor in the court of Akbar and is very popular for his sharp intellect and sense of humor. The stories of Birbal are very popular among kids and adults alike and forms an indefensible part in Indian folk lore.

Birbal (1528-1583) is surely one of the most popular figures in Indian history equally regarded by adults and children. Birbal's duties in Akbar's court were mostly administrative and military but he was a very close friend of Akbar too, because Akbar loved his wisdom, wit, and subtle humor. He was a minister in the administration of Mogul Emperor Akbar and one of the members of inner council of nine advisors. He was a poet and an author too.

It is believed that he was a son of poor Braahman of Trivikrampur (now known as Tikavanpur) on the banks of River Yamuna. According to a popular legend he died on an expedition to Afghanistan at the head of a large military force due to treachery. It is also said that when Birbal died, Akbar mourned him for several months.

The exchanges between Akbar and Birbal have been recorded in many volumes. Many of these have become folk stories in Indian tradition. Birbal's collection of poetry published under the pen name "Brahm" are preserved in Bharatpur Museum, Rajsthan, India.

This app is helpful to children to read great stories of akbar and birbal. Birbal was an advisor in the court(darbar) of akbar and is very popular for his sharp intellect and sense of humor.