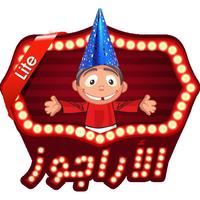 Al Aragoze Lite - الأراجوز لايت
Not Available
Removed
from the App Store
Al Aragoze Lite - الأراجوز لايت Description
الأراجوز ! التطبيق الأول من نوعه بلا شك في الشرق الأوسط ...

إذا كنت تبحث عن ترفيه من نوع جديد و بطريقه مبتكره و مضحكه لك ولأطفالك فطريقك معنا وتطبيقك ها هنا ...

الأراجوز هو صديق إفتراضي يقدم لك مجموعة من النكات الخفيفة والمضحكه، بالإضافة إلى إمكانية تغيير خلفية شاشة اللعب و المسرح الذي يلعب عليه وأيضا تستطيع تغيير الملابس والأحذية والقبعات والمزيد من القطع الخاصه به !
التطبيق يتفاعل معك عند الضغط علي أي جزء من جسد الأراجوز...

إستمتع بالمعني المصري للضحك

ملحوظه هامه: النسخه المدفوعه بها المزيد والمزيد من الخواص ذات نفس المعني الترفيهي

Al Aragoze! The first application of its kind undoubtedly in the Middle East

If you are looking for a new kind of entertainment, in an innovative way for you and your kids! Please join our Egyptian world of fun and enjoy for Free :)

Al Aragoze! is a virtual friend that offers you a range of light jokes, in addition to the possibility of changing the background screen play, theater, you can also change his clothes, shoes, hats and more of his own cloth pieces!

Application interacts with you when you click on any part of the body…
Enjoy the Egyptian sense of laughter

PS: The paid version had more and more features that had the same properties of this great new entertainment way!
Al Aragoze Lite - الأراجوز لايت 1.0 Update