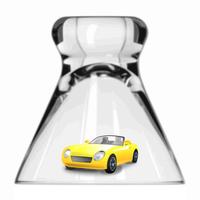 Alcohol Check – Skills Test
Not Available
Removed
from the App Store
Alcohol Check – Skills Test Description
This app is for entertainment. It can not replace a blood test and good judgement.

Here are five quick mini games to help determine if you're fit to drive.

Driving ability can be impaired in several ways, e.g. by sleeplessness, fatigue, drug use or alcohol use. Any mix of those is even worse. This app lets you test the deterioration of the skills that usually follow from all the abovementioned conditions and activities. It does not focus on alcohol use and therefore makes no attempt to determine how much alcohol is in the body. Instead the approach is simply to test certain skills that are necessary for safe driving. Each test takes about 15 seconds.

Ok, so what skills are tested?

The steadiness test checks if you can drive an attractive red BMW Z4 cabriolet on a short journey of about eight seconds, without crashing. It tests how steady your hand is. Enjoy the satisfying V8-snarling, which sounds truly impressive with headphones on. Unfortunately the original BMW Z4 doesn't sound as good as this one.
The coordination test lets you pierce a balloon, which shows up in different places on the screen. This happens about once a second for 15 seconds. It tests your eye-hand coordination.
The visual clarity test lets you point out a bright red dot, which shows up in a matrix of pale red dots. This happens about once a second for 15 seconds. It tests if you can see clearly.
The mental agility test lets you select a digit on a numerical keyboard. The selected digit should be one greater than a digit that shows up on screen. This happens about once a second for 15 seconds. It tests if you can think quickly and clearly.
The memory test presents a series of five smileys, one after the other and you're supposed to remember the type of smileys and their order. You use a smiley keyboard to input your recollection. You have to be quick, because you have only six seconds to answer.

What about alternative methods for determining driver fitness? Can't you just apply a formula to compute the amount of alcohol in the blood based on what you've drunk and when?

First: that's alcohol-centric, and there are more ways to become a bad driver.
Second: the time the liver takes to remove alcohol from the blood depends on the individual. The body-size is just one of the parameters to take into account.
Alcohol Check – Skills Test 2.0 Update
Bugfixes and updates for iOS 10.
More
More Information
Language:

Dutch

English

French

German

More