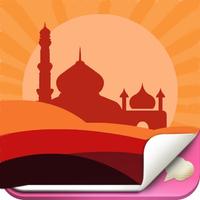 Alif Laila Story
Not Available
Removed
from the App Store
Alif Laila Story Description
• Alif Laila Stories in Hindi

• Alif Laila (Thousand Nights) is based on the stories from the Arabian Nights. The legacy of Arabian Nights told as a daily fantasy series. The 1001 stories in 1001 nights are told in the most exiting, enthralling and romantic way.

• अलिफ लैला की कहानी अरब देश की एक प्रचलित लोक कथा है जो पूरी दुनिया में सदियों से सुनी व पढ़ी जाती रही है। यह हज़ार कहानियों का एक खूबसूरत गुलदस्ता है, जिसमें प्रत्येक कहानियां एक पफूल की तरह है। इन कहानियों में प्यार, सुख, दुःख, दर्द, बेवपफाई, ईमानदारी, कर्तव्य, भावनाएं जैसे भावों का अद्भुत संतुलन है, जिसको पाठकों और श्रोताओं को हमेशा लुभाया है।

• But, there are many more stories beyond Aladdin and his magic lamp, Alibaba and 40 thieves, Sinbad and his sailing saga in the wonderful treasure of stories that haven't come to public eye.

• The tales vary widely: they include historical tales, love stories, tragedies, comedies, poems, burlesques and various forms of erotica. Numerous stories depict Jinns, Ghouls, Apes, sorcerers, magicians, and legendary places, which are often intermingled with real people and geography, not always rationally; common protagonists include the historical Abbasid caliph Harun al-Rashid, his Grand Vizier, Jafar al-Barmaki, and his alleged court poet Abu Nuwas, despite the fact that these figures lived some 200 years after the fall of the Sassanid Empire in which the frame tale of Scheherazade is set. Sometimes a character in Scheherazade's tale will begin telling other characters a story of his own, and that story may have another one told within it, resulting in a richly layered narrative texture.

• Features of This App
• All new design.
• 100% free application
• Beautiful user friendly interface.
• Purely in Hindi Language Application.
• You can share story using this application.
• Implemented Notification so that user can get new updates of this application.

• More stories will be added in the future.

• Don't forget to give your valuable review once you download and use the app.

• Share it with your friends and family.

• Happy Reading, Alif Laila Stories In Hindi Language.