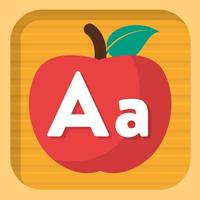 AlphaApp - Learn the Alphabet
$0.99
AlphaApp - Learn the Alphabet Description
AlphaApp is an interactive alphabet and vocabulary app for children. Each letter of the alphabet is an easy-to-tap button, which launches a screen full of pictures and sounds of words starting with that letter.

Features:
* Record your own voice so the spoken words are more familiar to your child. Or use the high-quality text-to-speech feature.
* Turn on Kid Mode (Guided Access) to prevent your child from exiting the app (and doing who-knows-what).

Lovingly developed by two parents, an uncle, an aunt, a speech therapist, a doctor, two graphic designers, and two precocious kids from Chicago. Mercilessly tested by a 17-month-old aficionado of buttons and switches.