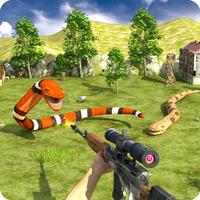 Anaconda Snake Hunting - Slither
Free Get
Screenshots for iPhone
More Screenshots for iPad
Anaconda Snake Hunting - Slither Description
Slither through african dark forest and Great killing ahead like fierce anaconda snake who is slaying his prey. Enjoy incredible shooting game to hunt wild Snake with its Deadly Slithering. Hunt down snakes to save rabbits or birds from its hunger.

kill the huge anaconda to slay your victim who is looking for preys, slithering around and killing the most pitiless way possible. Hunt deadly anaconda to avoid from its poison bite and hunger! Survive against ferocious python, cobra and ruthless anaconda.

Snake is crawling in a lush tropical forest and kill it as a victim with its poisonous venom spit. Avoid snake's prey on critters or slithering worm with sharp fangs. Utilize your stealth and cleverness and Embark on a lifetime hunting. If you have animal hunting and bird shooting passion then this sniper shooter game is for you.

Your feedback & ratings are welcome and will help us in creating even better games for you. In case of any bug or query, just send us an email, we will serve it.