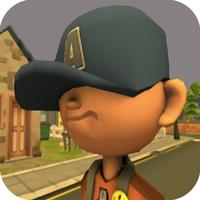 Angry Animal Town
Free Get
Screenshots for iPhone
More Screenshots for iPad
Angry Animal Town Description
Dark magic caused all animals in town to become angry and the only way to stop them is to collect gems nearby which are the source of that dark magic...

And also people in town are trying to help you so they drop their gold coins before they left the town.

Help that poor angry animals and your town people, they need you and your help.

You are the only hope...


Game Play :

-Collect gems for clearing levels. There are 6 gems per level and 6 angry animals which are protecting those gems.

- Collect gold coins to shop better equipment and ability. There are 110 gold coins per level.

- You can play as many times as you want to collect coins and gems.

- High scores are calculated from the number of gems you collected.


Animals : Rooster , Fox , Wolf , Pig , Cow , Bull , Aurochs , Horse , Bear , Polar Bear , Dragon


Good Luck!