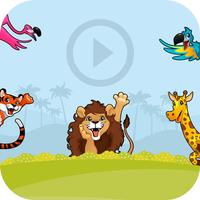 Animal and Bird Sounds - Fun Toddler game
Free Get
Animal and Bird Sounds - Fun Toddler game Description
Animal and bird sounds is an educational game for kids, which helps kids to entertain. It also helps parents to teach kids about animals and birds names and sounds. This is the easiest way to learn your toddlers these days.

This animal sounds app offers HD animal pictures and by a simple touch on animal images it produces each animal sound respectively.

This animal sounds app includes more than 130 sounds of animals and birds.

The animal sounds included:

Alligator, American-Bison, Baboon, Badger, Beaver, Bets, Bob-Cat, Buffalo, Bullfrog, Camel, Cat, Cheetah, Chimpanzee, Cicada, Cougar, Cow, Coyote,
Crocodile, Dog, Dolphin-(Clicking), Donkey, Elephant, Frogs, Giant-Anteater, Giant-Panda, Gibbon, Goat, Gorilla, Grey-Squirrel, Grillito, hippopotamus,
Horse, Hyena, Jaguar, Kitten, Lamb, Lemur, leopard, Lion, Llama, lynx, Monkey, Moose, Mosquito, Orangutan, panther, penguin, Pigs, Raccoon,
Rattlesnake, Red-Howler-Monkey, Red-Stag, Rhesus-Monkey, Rhinos, Seal, seaLion, Sheep, Tiger, Wasp, Wolf, Zebra


The bird sounds included:

American-Goshawk, American-Robin, Atlantic-Gannet, Baltimore-Oriole, Barn-Owl, Barn-Swallow, Blackbird, Blue-Footed-Booby, Blue-Jay, Bobwhite, Brown-Creeper, Bufflehead, Bushtit, Canvasback, Caracara, Cardinal, Chaffinch, Chickadee, Chicken, Cliff-Swallow, Cock-of-the-Rock, Crossbill, Crow, Cuckoo, Duck, Eagle, Eastern-Cowbird, European-Bullfinch, European-Greenfinch, European-Starling, Flamingo, Forest-Birds, Golden-Oriole, Great-Blue-Heron, Great-Horned-Owl, House-Sparrow, Indigo-Bunting, Killdeer, Kookaburra, Loggerhead-Shrike, Long-Billed-Curlew, Mallard, Mockingbird, Moorhen, Mynah-Bird, Nightingale, North-American-Dipper, Osprey, Owl-Hooting, Peacock, Puffin, Red-Bird-of-Paradise, Red-Tailed-Hawk, Roadrunner, Rooster, Roseate-Spoonbill, Ruffed-Grouse, Scarlet-Macaw, Scarlet-Tanager, Sedge-Warbler, Skylark, Snowy-Owl, Spotted-Flycatcher, Sulfur-Crested-Cockatoo, Trumpeter-Swan, Turkey, Whooping-Crane, Wood-Duck, Yellow-Warbler


Please give us you feedback to make it better.