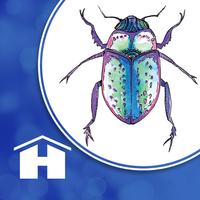 Animal Kin Oracle Cards
Not Available
Removed
from the App Store
Screenshots for iPhone
More Screenshots for iPad
Animal Kin Oracle Cards Description
Get a 7-day FREE Trial to Sarah Wilder's Animal Kin Oracle Cards!

FEATURES:
- Give Animal Kin Readings anywhere, anytime on your iOS device*
- Choose between 1-card, 2-card, 3-card and 5-card readings*
- Save your readings to review at any time*
- Email your readings to yourself or share with a friend*
- Browse the entire deck of cards in Browse mode
- Flip cards over to read each Animal Kin message
- Learn more from the complete guidebook

*After your 7-day FREE TRIAL, a one-time in-app purchase will unlock these premium features.Tapping into the energies of different animals is a beautiful and gentle way for us to get back in tune with nature, and to reignite our compassion, curiosity and intuitive abilities.

The Animal Kin Oracle App is 65-cards of unique watercolor animal portraits, where each animal is linked to an element (Earth, Fire, Water, Air or Spirit) with word or mantra association. The comprehensive guidebook provides further guidance on each animal's special, visceral message.

This easy-to-use app is both stunning to look at and insightful to work with. Whether you choose a simple one-card draw, or a five-card elemental layout, as you work with The Animal Kin Oracle you will discover many ways animals can bring more purpose and magic to your life, help you re-connect with the earth and its animal kin, and deepen your own intuitive abilities.

About the Author:
Sarah Wilder is the creative Soulpreneur and Boss Goddess behind The Fifth Element Life and Sarah Wilder brand, a conscious brand connecting body, mind and spirit through symbolic and sacred talismans and tools and home of the ever-popular Mandala talisman ranges.

Sarah combines her love of nature and design to intuitively create symbolic talismans, tools and teachings for self-reconnection which help focus the mind and reconnect people to their true nature; incorporating symbolism, animals and plants in everything she does.

Her purpose is to empower women to tell and own their stories with pride, express themselves honestly and to provide sacred tools to guide them through uncharted energy territories. It is through her own unique multi-faceted life story, met with a full spectrum of experiences, that we learn that we can always look to nature to learn about our own.

Led by her philanthropic heart, Sarah's intention is to give back to the people she connects with through her work, and the natural resources and its kin she so dearly love and works with so intimately each day through various charitable collaborations and partnerships.

She is also a best friend, mother, daughter, teacher and student. Her down-to-earth approach to life and business has seen her not only become a leader in her industry but more importantly, the leader of her own life. Sarah prides herself on being just like her community— strong, awakened, empowered women, remembering reconnection in a time where we all feel incredibly disconnected and alone. She loves dancing, creating and learning new things and feels most at home amongst the trees, watching the birds (at the moment she can't escape the currawongs!).
Animal Kin Oracle Cards 1.1 Update
Numerous improvements and minor fixes.
More