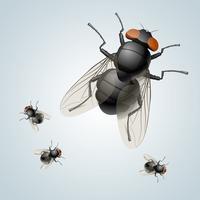 Annoying Fly HD
Free Get
Annoying Fly HD Description
-*- Where on earth is that annoying fly sound coming from? -*-

**** "it's vey realistic, and lots of fun" - app store review

***** "Realistic sound and fun to see how annoying it it if someone cannot find the source of the zzzzzzzz." - app store review

**** "love it!" - app store review

That's right, you can annoy your friends and pester your family... and when you get fed up with it: SPLAT!

Watch the fly buzzing around the screen, doomed to circle endlessly trapped inside your iPad until your wicked finger puts an end to it.

3 fantastic game modes: 100 seconds 100 flies, 60 second dash (those flies just keep multiplying!) and KEEP OFF THE STEAK!

4 realistic fly modes and sounds, mosquito, housefly and swarm of flies and wasp.

A great novelty app, very therapeutic too!

Powered by the Sparrow Framework.

NO FLIES WERE HARMED DURING THE MAKING OF ANNOYING FLY!
Annoying Fly HD 1.8 Update