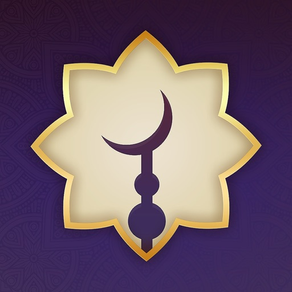 کاتەکانی بانگ
اوقات الصلاة | Prayer Times
2.4
for iPhone, iPad and more
کاتەکانی بانگ Screenshots
About کاتەکانی بانگ
مواقيت الصلاة الجديدة 2023 لجميع محافظات العراق

له‌ڕێگه‌ی ئه‌م ئه‌په‌وه دەتوانیت ئاگاداربیت لە‌ كاتی بانگەکان لە ھە‌موو جیهان و پارێزگاكانی عێراق و چەندین شارۆچكەی هه‌رێمی كوردستان، هه‌روه‌ها ده‌توانیت كاتی بانگ دروستبكه‌یت به‌ پێی ئه‌و ناوچه‌یه‌ی تێیدا ده‌ژیت به‌ پشت به‌ستن به‌ نزیكترین پارێزگا لێته‌وه‌.
زیاتر لەمەش، ئەم ئەپە توانای ھەیە ئاگادارت بکاتەوە لە کاتی بانگەکان بەشێوازی نۆتیفیکەیشن و تۆش دەتوانیت بە پێی ویستی خۆت دەنگی جیاواز بۆ ھەر یەک لەبانگەکان ھەڵبژێریت، هه‌ندێكیتر له‌ تایبه‌تمه‌ندیه‌كان:

١-ئه‌په‌كه‌ بێبه‌رامبه‌ره.
٢- ئه‌په‌كه‌ به‌ سێ زمانه‌ (كوردی، عه‌ره‌بی، ئینگلیزی).
٣- سێ جۆری جیاوازی ویدجێت.
٤- قیبله‌نما.
٥- زیكری به‌یانیان و ئێواران.
٦. ئاگادارکرنەوەی پێش بانگی بەیانی


اوقات الصلاة هو تطبيق يمكنك من خلاله معرفة اوقات الصلاة في عالم و جميع محافظات عراق وبعض الاقضية كردستان. وان لم تستطع ايجاد منطقتك ضمن قائمة المناطق في التطبيق، تستطيع بسهولة ان تضيف اوقات الصلاة في منطقتك يدوياً. هذا التطبيق يستطيع ان يرسل اليك اشعارات تخبرك حين يحين وقت الصلاة ويعطيك حرية اختيار مؤذن مختلف لكل صلاة.
خواص اخرى:-
١- هذا التطبيق مجاني.
٢- يمكنك اختيار من ثلاث لغات: العربية والكردية والانجليزية.
٣- ثلاث ادوات مختلفة في قائمة الادوات.
٤- يمكنك معرفة اتجاه القبلة.
٥- اذكار الصباح والمساء.
٦- ينبهك قبل أذان الفجر.



Prayer Times is an app that allows you to know about the times of your prayers in World and all governorates of Iraq and many towns and subregions of Kurdistan. However, If you could not find your location listed in the app, it would be no problem as our app has the feature that enables you to create prayer times for your location according to the nearest region.
Even more, the app is able to notify you when it is time for the call of a prayer, and you can set different voices and sounds for each athan at your own desire.
More features:-
1. It is absolutely free.
2. It includes three languages: Kurdish, Arabic and English.
3. Compass.
4. Morning and Evening athkars.
5. Three different types of widgets.
6. It has Pre-Fajr alarming.
What's New in the Latest Version 2.4
Last updated on Apr 14, 2023
Old Versions
چاککردنی کاتەکانی بانگی خانەقین
Version History
چاککردنی کاتەکانی بانگی خانەقین
چاککردنی کاتەکانی بانگی چەمچەماڵ و دەوروبەری
چاککردنی کاتەکانی بانگی سنوری پارێزگای سلێمانی
لەم وەشانەدا ئەپلیکەیشنەکە هەموو کاتەکانی بانگ بۆ عێراق نوێکراوەتەوە کەلەساڵی ٢٠٢١ وەقفی سونی عێراق گۆڕانکاری تێداکرد، تەواو پاڵپشتی Voice-over دەکات کە سودی زۆر بەئاسانی لەلایەن خاوەن پێداویستیە تایبەتەکانەوە دەتوانرێت ئەپەکە بەکاربهێندرێت بەتایبەتی نابینایان، وە لەم وەشانەدا کاتی بانگی هەموو جیهانی تێدا بەردەستە وە شێوازی دۆزینەوەی خۆکاری بۆزیادکراوە لەکاتی چونت بۆ ناوچەیەکی تر یاخود ولاتێکی تر ئەوا تەنها ئەپەکە بکەرەوە خۆکارانە شوێەنەکەت دیاری دەکات و کاتەکانت بۆ ڕێک دەخات وە ڕوکاری نوێی بۆزادکراوە و شێوازی کارکردنی باشتر کراوە.

هذا التحديث مواقيت الصلاة الجديدة 2021 لجميع محافظات العراق ، يدعم جميع مميزات Voice-over لما فيها من التسهيلات لذوي الاحتياجات الخاصة ومن ضمنهم المكفوفين
وفي هذا التحديث أيضا تم اضافة مواقيت الأذان لجميع الدول ويتم تحديد وضبط أوقات الأذان الدولة او المنطقة التي تذهب اليها أوتوماتيكيا عند فتح التطبيق فيها
وهذا التحديث أيضا تحتوي على خلفيات ومظاهر جديدة وعلى تحسين اداء التطبيق بشل عام.

In this version, the app fully supports Voice-over, which makes the app to be easily used by people with special needs, especially the blind, and in this version the athan times of all the regions of the world is available. The auto-locate method has been added when you go to another area or another country, just open the app and it automatically determines your place and adjusts the time for you. Additionally, new themes are added and the app is improved significantly.
وەشانی ٢ ی کاتەکانی بانگ
الحمدلله ئەمجارەش خوای گەورە هاوکارمان بوو لە نوێکردنەوەی ئەپلیکەیشنی کاتەکانی بانگ.
کۆمەڵێک گۆڕانکاری بەخۆیەوە دەبینێت کە کاری بەکارهێنەر ئاسانتر دەکات و زوتر دەستی بەکاتەکانی بانگ دەگات کە بریتین لەمانە:


- زیادکردنی widget کە لە ios 14 و بەرەوسەر کاردەکات، کاری نیشاندانی کاتەکانە لەنێو ئایکۆنی ئەپلیکەیشنەکان.
- نوێکردنەوەی ڕووکارەکان.
- باشترکردنی سیستەمی ئاگادارکردنەوە )بانگدان(
- زیادکردنی ئاگادارکردنەوەی پێش بانگەکان.
- زیادکردنی بەرواری هیجری.
- زیادکردنی کۆمەڵێک زیکری تر.
- چاککترکردنی دۆزەرەوەی قیبلە.
- گونجاوە لەگەڵ دۆخی تاریک.
- گۆڕینی دەنگی ئاگادارکردنەوەکان.

تایبەتمەندیەکانی پێشتر:
- بانگی ١٩ پارێزگاکەی عێراقی تێدایە.
- ئاگادارکردنەوەی کاتەکانی بانگ.
- نیشاندانی کاتەکانی بانگ لە Notification center کە وەشانی ١٤ بەرەو خوار سودمەند دەبن لێی.
- بە زمانی )کوردی،عەرەبی،ئینگلیزی( بەردەستە.



اصدار ٢ أوقات الصلاة
بفضل من الله تم تحديث التطبيق أوقات الصلاة.
في هذه التحديث أجرينا بعض التغيرات الذي يجعل من الوصول الى عناصر التطبيق اكثر سهولة
ومن التغيرات التي حصل في هذا التحديث


- اضافة widget الذي يعمل في ios 14 .
- تحديث المظهر.
- اضافة مميزات جديدة (الأذان ).
- اضافة تنبيهات قبل الأذان .
- اضافة تاريخ الهجري.
- اضافة عدد من الاذكار عدا اذكار الصباح والمساء.
- تسهيل العثور على اتجاه القبلة الصحيحة.
- ملائمة مع الحالة المظلمة.
- تغير صوت التنبيهات.

الخصائص السابقة:
- موعد الأذان لجميع المحافظات العراق.
- تنبيهات أوقات الصلاة.
- عرض أوقات الصلاة في Notification center الذي يستفاد منه إصدارات ١٤ فما دون
- موجودة باللغة العربية والكردية والإنكليزية.



Prayer Times Version 2.0
Thanks to Allah that has blessed and helped us on updating this app.
This update includes a set of new features as well as improvements to the existing features.

The following features have been added and/or improved:
⁃ Adding the new type of widget that has been introduced in IOS 14 and that enables you to add the widget next to the apps.
⁃ Updating the general appearance of the app.
⁃ Improving and fixing the bugs associated with the notifications and alerts.
⁃ You can now add alerts before the time of Athans.
⁃ Adding more Muezzin and alert sounds.
⁃ Adding Hijri Date.
⁃ Adding more supplications
⁃ Improving the compass.
⁃ Adding support to night shift

Pre-existing features:
⁃ The prayer times of all Governorates of Iraq.
⁃ Alerting the user at the time of Athans.
⁃ It is available in Arabic, Kurdish and English languages.
ڕێکخستنەوەی ڕووکار بۆ ئامێرەکانی X
لەگەڵ هەرنوێکردنەوەیەکدا کۆمەڵێک کێشە چارەسەر کراون وە زیاتر کارکراوە بۆ باشترکرنی شێوازی کارکردنی ئەپەکە بۆیە با هەمیشە دواین وەشانی ئەپلیکەیشنەکەت لابێت.
چاككردنی هه‌ندێك كێشه‌ و باشتركردنی ئه‌په‌كه‌
کاتەکانی بانگ FAQ
Check the following list to see the minimum requirements of کاتەکانی بانگ.
iPhone
Requires iOS 9.0 or later.
iPad
Requires iPadOS 9.0 or later.
iPod touch
Requires iOS 9.0 or later.
کاتەکانی بانگ supports English
کاتەکانی بانگ Alternative