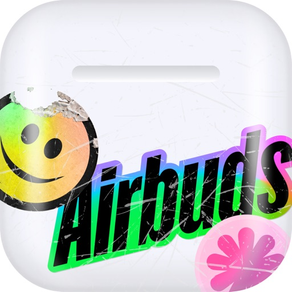 Airbuds Widget
Friends Listening Activity
0.81
for iPhone, iPod touch
Airbuds Widget Screenshots
About Airbuds Widget
Airbuds is a widget for best friends to share their listening activity.

You and your friends can see what each other are listening to right on your home screens.
You can react to songs, play music on the app, and start a conversation.

It makes you feel closer to your friends through the music they're listening to at any moment.


HOW IT WORKS:
1. Sign up with Spotify or Apple Music and add the widget to your home screen
2. See what your friends are listening to
3. React to songs, play music on the app, and start a convo.
What's New in the Latest Version 0.81
Last updated on Sep 20, 2023
Old Versions
Version History
- bug fixes and improvements
- Fixed a bug that could prevent you from retrieving your most recent weekly recaps from the history
Bugs fixes on weekly recap
Fix notification badge
Allow phone number change
Fix scroll for newer versions
Bug fixes and improvements
You can now share your Music Mascot.
You can now share your Totem Animal.
- keep the position in the new reaction bar, if you use custom stickers a lot it will be easier to reach the sticker button.
- New App Icon
- Fix Sticker font
- Other bug fixes and improvements
- Reactions on the widget
- Fix custom status list
- new activities in the feed!
- small UI improvements
- more accurate integration with Apple Music
- some adjustments and bug fixes
See more favorites on your profile
update tutorial for the Apple Music integration
- Airbuds will now take less space on your phone
- don't miss any of your friend request, thanks to their new design
- some bugs fixes
Fix profile picture uploading
Fix display of status
- New in your weekly recap: your most played tracks and your music stats.
- Reply directly to a reaction with a message.
- Bug fixes and improvements.
Open the last weekly recap from your profile
- You can now see your sent reactions and delete reactions
- You can favorite from your home screen
- You can start a status from the feed
- You most played genre are displayed in your profile
Airbuds Widget FAQ
Airbuds Widget is available in regions other than the following restricted countries:
Mali,Ukraine,Antigua And Barbuda,Guyana,Latvia,Mauritania,Palau,Tajikistan,Zimbabwe,Bahrain,Costa Rica,Lao Peoples Democratic Republic,Namibia,Poland,Serbia,Vietnam,Brunei Darussalam,Pakistan,El Salvador,Uruguay,Zambia,Greece,Libya,Saudi Arabia,Turkmenistan,Azerbaijan,Papua New Guinea,Peru,Malaysia,Paraguay,Grenada,Kyrgyzstan,Suriname,Bermuda,Mexico,Niger,Portugal,Senegal,Spain,Cambodia,Hong Kong,Israel,Montenegro,Mozambique,Chad,Armenia,Egypt,Tanzania,Vanuatu,Oman,Uzbekistan,Jordan,Lithuania,Lebanon,Brazil,South Korea,Cyprus,Malta,Sao Tome & Principe,Anguilla,Japan,Philippines,Russia,Sierra Leone,Yemen,Iraq,Macedonia,Swaziland,Turkey,Liberia,Albania,Cameroon,Ghana,Jamaica,Madagascar,Myanmar,Nauru,Bosnia & Herzegovina,Botswana,Romania,Bolivia,Kenya,St. Kitts and Nevis,Morocco,Montserrat,Turks and Caicos,Dominica,Estonia,Cote Divoire,Benin,Moldova,Mauritius,Rwanda,United Arab Emirates,Tunisia,Ecuador,Nicaragua,Micronesia,St. Lucia,Barbados,Bulgaria,Georgia,Sri Lanka,Belarus,Gabon,Guinea-bissau,Italy,Seychelles,Trinidad and Tobago,Venezuela,Bahamas,Congo, Democratic Republic,South Africa,Kazakhstan,Singapore,St. Vincent & The Grenadines,Chile,India,Fiji,Honduras,Croatia,Indonesia,Mongolia,Nepal,Cape Verde,Algeria,Taiwan,Belize,Czech Republic,Kuwait,Maldives,Nigeria,Panama,Afghanistan,Angola,Solomon Islands,Macao,Qatar,Cayman Islands,Hungary,Malawi,Slovenia,Tonga,Uganda,Dominican Republic,Gambia,Guatemala,Slovakia,Thailand,British Virgin Islands,Kosovo,Argentina,Colombia,Congo,China,Burkina Faso,Bhutan
Airbuds Widget supports English
Check the following list to see the minimum requirements of Airbuds Widget.
iPhone
Requires iOS 15.0 or later.
iPod touch
Requires iOS 15.0 or later.
Airbuds Widget Alternative