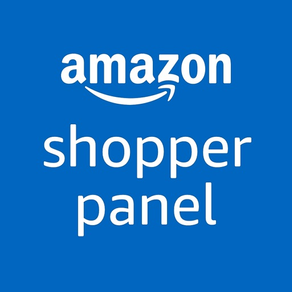 Amazon Shopper Panel
2.3
for iPhone, iPod touch
Amazon Shopper Panel Screenshots
About Amazon Shopper Panel
The Amazon Shopper Panel is an opt-in, invitation-only program where participants can earn monthly rewards by sharing receipts from purchases made outside of Amazon.com, completing short surveys, and enabling ad verification for the ads they see from Amazon's own advertising or third-party businesses that advertise through Amazon Ads.

Earning rewards is easy. Simply upload 10 eligible receipts per month by using the Amazon Shopper Panel app to take pictures of paper receipts or by forwarding email receipts to receipts@panel.amazon.com and you'll earn $10 towards either an Amazon Balance or a charitable donation. You'll earn additional rewards each month for every survey you complete or if you enable ad verification. Space is limited and you may only be eligible to participate in certain parts of the program. You can check if you are eligible by tapping on the tabs for Receipts, Surveys, and Ads in the app.

Your participation will help brands offer better products and make Amazon ads more relevant.

Participation in the Amazon Shopper Panel is voluntary and panelists can stop using the app, sharing receipts, answering survey questions, or enabling ad verification at any time.

The Amazon Shopper Panel is available to a limited number of Amazon customers in the US. If you received an invitation, download the app now. Interested customers who did not receive an invitation can download the app to join the waitlist and will be notified via email if space becomes available.

Learn more: http://panel.amazon.com

By using this app, you agree to Amazon's Conditions of Use (www.amazon.com/conditionsofuse) and the Amazon Shopper Panel T&Cs (available in the app). Please also see our Privacy Notice (www.amazon.com/privacynotice).
What's New in the Latest Version 2.3
Last updated on May 24, 2023
Old Versions
minor bug fixes and feature updates
Version History
minor bug fixes and feature updates
Minor bug fixes and feature updates
Feature updates and bug fixes.
Adds support for multi-question surveys and some minor bug fixes.
This version adds fixes to minor bugs.
This version adds push notifications and fixes minor bugs.
Usability improvements and minor bug fixes.
Usability improvements and minor bug fixes
Amazon Shopper Panel FAQ
Amazon Shopper Panel is available in regions other than the following restricted countries:
Maldives,Papua New Guinea,Trinidad and Tobago,Uganda,Argentina,Mauritania,Jamaica,Oman,Senegal,Czech Republic,Spain,Jordan,Kuwait,Brunei Darussalam,China,South Korea,Pakistan,Qatar,Slovenia,El Salvador,Zimbabwe,Bahamas,Hungary,Macao,Slovakia,Chad,Switzerland,Dominica,Cayman Islands,Romania,India,Dominican Republic,Georgia,Myanmar,Malaysia,Niger,Albania,Brazil,Yemen,Algeria,Grenada,Malta,Bermuda,Costa Rica,Moldova,Netherlands,Seychelles,Tunisia,Cameroon,Iraq,Finland,Guyana,Indonesia,Cambodia,Kazakhstan,Nepal,Botswana,Estonia,New Zealand,Turkmenistan,Mexico,Sweden,Denmark,Italy,Congo, Democratic Republic,Congo,Lao Peoples Democratic Republic,Azerbaijan,Belarus,Burkina Faso,Bhutan,Japan,Nicaragua,Antigua And Barbuda,Anguilla,Gambia,Iceland,St. Kitts and Nevis,Latvia,Montenegro,Tonga,Angola,Gabon,Vietnam,Fiji,Serbia,Thailand,United Arab Emirates,Namibia,Belize,Cape Verde,Egypt,St. Lucia,Montserrat,Nigeria,Barbados,Belgium,Poland,Vanuatu,Bosnia & Herzegovina,Bahrain,Guatemala,Guinea-bissau,Croatia,Ireland,Israel,Sri Lanka,Benin,Ghana,Uzbekistan,Kenya,Nauru,South Africa,Zambia,Bolivia,Chile,Libya,Norway,Sao Tome & Principe,Bulgaria,Cyprus,Saudi Arabia,Kosovo,Liberia,Mali,Ukraine,Afghanistan,Morocco,Mauritius,Philippines,Portugal,Sierra Leone,Uruguay,Greece,Lithuania,Ecuador,Mozambique,Russia,Tajikistan,Armenia,Austria,Paraguay,Singapore,Swaziland,British Virgin Islands,Cote Divoire,Madagascar,Taiwan,Tanzania,Luxembourg,Palau,Rwanda,Suriname,Turks and Caicos,Turkey,Venezuela,Kyrgyzstan,Peru,Colombia,Honduras,Panama,Solomon Islands,Australia,Lebanon,Macedonia,Mongolia,Malawi,St. Vincent & The Grenadines,Micronesia,Hong Kong
Amazon Shopper Panel supports English, French, German, Italian, Japanese, Portuguese, Spanish
Check the following list to see the minimum requirements of Amazon Shopper Panel.
iPhone
Requires iOS 14 or later.
iPod touch
Requires iOS 14 or later.
Amazon Shopper Panel Alternative