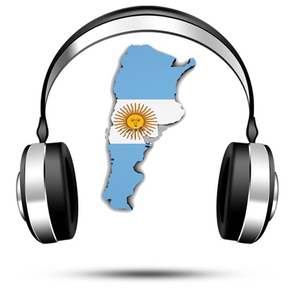 Argentina Radio FM Screenshots
About Argentina Radio FM
Esta aplicación de emisoras argentinas es una de las mejores aplicaciones de escuchar radio online, Fácil y rápida para que encuentres toda la radio de tu país en vivo. Tenemos una de las listas mas completas de emisoras argentinas y estamos totalmente seguros que encontrarás las emisoras argentinas que estás buscando !Pruébalo ahora, es totalmente gratis!

Es fácil de usar y muy rápida, no consumirá tanta batería como otras aplicaciones y realmente la disfrutarás mientras escuchas radio argentinas. Si te ha gustado la aplicación calíficanos Con buena clasificación para poder llegar a mas personas para que continuemos mejorando y manteniendo la aplicación para que cada día recibas un mejor servicio. Gracias.
Si deseas que agreguemos alguna radio en particular para ti, escríbenos a EcApps@outlook.es, estaremos complacidos de ayudarte.


CARACTERÍSTICAS PRINCIPALES:

- La pantalla principal de home o casa para que busque la emisora que esta sonando actualmente entre otras cosas.
- Emisoras aquí podrás ver todas las emisoras y la que mandas a agregar.
- Generos en esta pantalla puedes ver las emisoras por generos.
- La pantalla de configuración los ajustes de la aplicación.
- En esta app se encuentran las mejores emisoras y puedes escuchar y para compartir en Facebook o Google+ de toda la red. Comparte y haz que ellos también disfruten con estas emisoras que subimos diariamente. Esta app recopila Emisoras publicadas en la web. Sin embargo, de encontrar una Emisora que sea de su propiedad y que por error se encuentra en nuestro App, pues no dude en comunicárnoslo a este correo: EcApps@outlook.es, que de inmediato lo eliminaremos de nuestra base de datos.
- La pantalla de favoritos para que agregues las emisoras que te gustan.
- Ahora Puedes Buscar las emisoras por nombre.
- Se agrego una pantalla donde puedes agregar emisoras manualmente.
- También agregamos una pantalla donde puedes grabar el sonido de la emisora que escuchas.
- Entre Muchas mas.


UNAS DE LAS EMISORAS QUE ESTA EN LA APP


- 650 AM
- La Nueva Radio 650 AM
- FM 105.7
- Imaginate FM 105.7
- 93.1 FM
- Guemes 106.3 FM
- 93.1 FM
- FMFenix 93.1 FM
- FM 101.5
- FM Pop 101.5
- FM 96.5
- FM Express 96.5
- FM 89.5
- FISHERTON CNN - FM 89.5
- 100.9 FM
- Estacion del Sol
- 89.7 FM
- Espacio 89.7 FM
- FM 107.5
- RADIO DEL PLATA - FM 107.5
- AM 590
- Continental AM 590
- 1110 AM
- Ciudad 1110 AM
- 92.1 FM
- Cielo 92.1 FM
- FM 99.3
- RADIO CENTRO - FM 99.3
- 1220 AM
- Cadena ECO
- 680 AM
- Cadena Cerealista
- FM 100.5
- Cadena 3
- 1350 AM
- Buenos Aires 1350 AM
- 103.7 FM
- Amadeus 103.7
- 840 AM
- Bahia Blanca LU2
- 760 AM
- Atlantica LU6
- 103.7
- Amadeus
- 91.1 FM
- Argentina - Corrientes
- 101.9 FM
- Villa General Belgrano
- 100.5 Mhz
- Metropolitana FM
- 91.3 FM
- Transformacion
- 95.1 FM
- Metro 95.1 FM
- (entre muchas mas)


En la Pantalla de Genero Puedes Buscar por Mix, Bachata, Musica Urbana, Jazz, Reggaetón, Rap, Heavy metal, Cumbia, Pop, Rock & Roll, Electronica, Dance, Merengue, Salsa, Cristianas.

* Para que esta aplicación funciones se necesita conexión internet.
* Esta aplicación no permite descargar de musica.

Descarga ahora radio argentinas y disfruta de todas las radios de argentinas gratis!
What's New in the Latest Version 1.2
Last updated on Aug 15, 2018
Old Versions
- Mejoras en el funcionamiento de la aplicación - Mejoras en el sistema - Corrección de errores
Version History
- Mejoras en el funcionamiento de la aplicación - Mejoras en el sistema - Corrección de errores
Argentina Radio FM FAQ
Check the following list to see the minimum requirements of Argentina Radio FM.
Argentina Radio FM supports English, Portuguese, Spanish
Argentina Radio FM Alternative