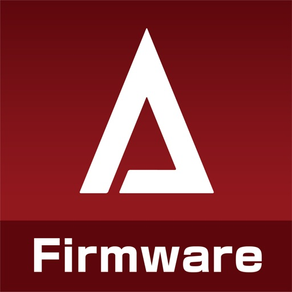 AsFWUpdater
2.0.2
for iPhone, iPod touch
About AsFWUpdater
This app is for updating the firmware on AsReader sled/jacket & new guntype devices. (It is not for use with the desktop models or v1 R250G guntypes)
============================
Steps to Update:
1. Download the latest firmware version on the Hex File Manager screen.
 Scroll down the list, find the appropriate file(s) for your device(s) from the "NEW HEX LIST" and tap "Download".
For example, an ASR-0230D user (with both Barcode and RFID), would need both: asr_0230D_iap2_1130_NBL.hex and RED4_v3.0.0_SPS_v1.4.5.hex"
2. Connect your device to the iOS device
3. Tap AsReader FW Update on the home screen
4. Tap the Select F/W HEX file button to select the firmware version to use for the update
5. After a successful update, disconnect, then reconnect your device to the iOS device
* For RFID models, the RFID module should ALSO be updated on the RFID Module Update screen
============================
Supported devices:
ASR-010D, ASR-010Dv2, ASR-020D, ASR-020Dv2, ASR-022D, ASR-030D, ASR-030Dv2, ASR-031D, ASR-031Dv2, ASR-0230D, ASR-0230Dv2, ASR-0231D, ASR-0231Dv2, ASR-0240D, ASR-040D, ASR-060D, ASR-061D, ASR-L70D, ASR-L251G
What's New in the Latest Version 2.0.2
Last updated on Mar 17, 2023
Old Versions
Version History
Supported the firmware update of the lightning repaired products of ASR-010D-V2 and ASR-020D-V2.
Modifies some minor problems.
1. Modifies some minor problems.
Modifies the prompt message during the 022D-V2U update.
1. Adjusts the APP UI display.
1. Modifies the problem that the UI of "HEX File Manager" page displayed abnormally after the system font size was increased.
1. UI page adjustment.
2. Add 251G firmware Update: AsReader(251G) Update
3. Add infrared module Update feature: Moduel(IR) Update
4. Firmware update can be supported for 060D/061D devices
Added support for new AsReader models. The APP now supports firmware updates for 060D.
Fixed the problem that the 0230Dv2 could not update the firmware with the AsFWUpdater App.
Fixed THE BUG where "Load HEX file" and "START" are not displayed on the "F / W Updater" screen on iPad 6th Generation.
1.The time when the alert is displayed when tapping "Start" on the FW update screen has been changed.
2.Contents related to "Enter Bootloader mode" was supplemented.
1. Only the FW of the device connected to Load HEX file is displayed.
2. Fixed the bug the problem that the text display on the Caution screen is centered on iOS 12 or later
3. Fixed an English spelling error on the Caution page.
1. A log is added at the start and end of the firmware update.
2. An alert added when tap the "Update" at the FW update
3. Fixed the bug that the progress bar stopped halfway when firmware updating
The description of the App Store has been revised.
Application no longer supports FW update versions of 510R, 520R, 300R, 301R
Added new bootloader,the new bootloader can recover from download failure.
1.modify the error of APP name.
AsFWUpdater FAQ
Check the following list to see the minimum requirements of AsFWUpdater.
iPhone
Requires iOS 12.3 or later.
iPod touch
Requires iOS 12.3 or later.
AsFWUpdater supports English