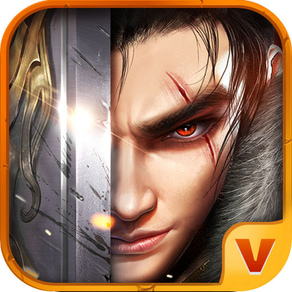 Bá Đao Nhất Kiếm Screenshots
About Bá Đao Nhất Kiếm
Bá Đao hoành tảo thiên quân, Nhất Kiếm tiếu ngạo thiên hạ. Đao tượng trưng cho chiến thần bất bại, kiếm tượng trưng cho vương giả tiêu dao. Đến với Bá Đao Nhất Kiếm, bạn sẽ được trải nghiệm một thế giới võ hiệp phân tranh truyền kỳ đặc sắc. Kết giao bằng hữu, ân oán tình cừu, hẹn ước mỹ nhân, huyết lệ sa trường. Cả thiên hạ đã nằm sẵn trong điện thoại, bạn có muốn tham gia không?

Bá Đao Nhất Kiếm hội tụ cực nhiều tính năng đặc sắc:
- Hệ thống nhân vật cá tính, chiêu thức kỹ năng biến ảo khôn lường
- Phụ bản săn boss, chế tạo trang bị, cày đồ miễn phí cực dễ
- Kết hôn uyên ương tặng trang phục đôi vĩnh kết đồng tâm
- Chiến trường tranh bá cửu châu rộng lớn chưa từng xuất hiện ở game nào khác
- Bang hội đông đảo, kết nghĩa huynh đệ cùng trải nghiệm game
- Sự kiện liên tục, cập nhật update mới mẻ không ngừng

Game siêu nhẹ mà vẫn siêu đẹp, vô vàn hoạt động đang chờ đón bạn, vào chơi ngay thôi!

Ba Dao Nhat Kiem - the no. 1 action rpg game of 2019. Its free to install, lets go and play together!
What's New in the Latest Version 1.0.6
Last updated on Jan 14, 2019
Bá Đao Nhất Kiếm FAQ
Check the following list to see the minimum requirements of Bá Đao Nhất Kiếm.
Bá Đao Nhất Kiếm supports Vietnamese
Bá Đao Nhất Kiếm Alternative