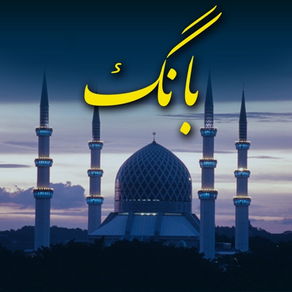 Bang بانگ
کاتەکانی بانگ لە کوردستان
4.4.7
for iPhone, iPod touch
About Bang بانگ
بەرنامەی بانگ تایبەتە بە کاتەکانی بانگ لە هەولێر، سلێمانی، دهۆک ، کەرکوک، هەڵەبجە، سۆران، رانیە، کۆیە، زاخۆ، قەڵادزێ، ئاکرێ، چەمچەماڵ، دەربەندیخان، کەلار، کفری، موسڵ، توزخورماتو، ئامێدی، پێنجوێن، سەیدسادق، هەڵەبجەی تازە، عەربەت، پیرەمەگرون، تاسلوجە، بازیان، دوکان، تەکیە، حاجی ئاوا، خەلەکان، تەقتەق، بەرزنجە، خانەقین، قادرکەرەم، چوارتا و قەرەداغ..
کاتەکان بە راست و دروستی هەمان ئەو کاتانەن کە لە مزگەوتەکاندا بەکاردێت و پەیڕەو دەکرێت.
دەتوانرێت زمانی بەرنامەکە بگۆردرێت بۆ کوردی سۆرانی، کوردی بادینی و عەرەبی.
هەموو قورئانی پیرۆزی تێدایە و دەتوانرێت فۆنتەکەی گەورەو بچوک بکرێت.
هەروەها ئەم بەرنامەیە وێردەکانی بەیانی و ئێوارانی تێدایە. لەگەڵ دۆعاکانی ناو قورئانی پیرۆز.
قیبلە نماش یەکێکە لە بەشەکانی کە دەتوانیت بە هۆیەوە دوری خۆت لە کەعبەی پیرۆز و ئاراستەی قیبلە بدۆزیتەوە.
دەتوانیت کاتەکانی بانگی یەک مانگی تەواو پیشان بدەیت.
پێت دەڵێت چەندی ماوە بۆ کاتی بانگی داهاتوو.

بانك هو تطبيق لمواقيت الصلاة في مدينة اربيل، دهوك، السليمانية، كركوك، حلبجة، سوران، قلعة دزة، عقرة، جمجمال، دربندخان، كلار، كفري ومدينة الموصل، عمادية، پێنجوێن، سەیدسادق، هەڵەبجەی تازە، عەربەت، پیرەمەگرون، تاسلوجە، بازیان، دوکان، تەکیە، حاجی ئاوا، خەلەکان، تەقتەق، بەرزنجە، خانەقین، قادرکەرەم، چوارتا و قەرەداغ.
أوقات الصلاة في هذا التطبيق هي نفسها الموجودة في المساجد والتي يعتمد عليها المصلون فلقد حاولنا جاهدين ان تكون دقيقة جدا.
يستطيع فيها المستخدم أن يغير لغة البرنامج الى اللغ العربية أو الكوردية.
يتضمن البرنامج القرآن الكريم بأجزائه الثلاثين كما تستطيعون تكبير الايات وتصغيرها.
كما يتضمن البرنامج الاوراد اليومية الصباحية والمسائية مع ادعية القرآن الكريم.
القبلة هي احدى المميزات التي يتضمنها التطبيق كما وتستطيعون معرفه قربكم من الكعبة أو بعدكم عنها.
تستطيعون معرفة اوقات الصلاة لمدة شهر كامل وهي ميزة سترونها من خلال التطبيق.
التطبيق ينبهكم عن الوقت المتبقي لموعد الصلاة القادمة.

This App is a prayer time for 34 cities in Kurdistan (Hawler, Sulaimanyia, Duhok, Kirkuk, Halabja, Soran, Koya, Akre, Chamchamal, Qaladze, Ranya, Kifri, Kalar, Zaxo, Darbandixan, Mosul, Amedi, Tuzxurmatu, Amedi, Penjwin, Said Sadiq, New Halabja, Arbat, Piramagrun, Tasluja, Bazyan, Dukan, Takyam Haji Awa, Khalan, Taqtaq, Xanaqin, Qaradax, Chwarta, Barznja, and Qadir Karam) based on these times when are used in all Mosques.
Also, it contains a compass when it displays the distance and direction to Kaaba (Qibla).
It has Kurdish and Arabic interface languages.
What's New in the Latest Version 4.4.7
Last updated on May 12, 2023
Old Versions
گۆڕانکاری لە کاتەکانی شاری سۆران دوای ئەوەی ئەوقاف بریاریدا وەکو هی هەولێربێت
Version History
گۆڕانکاری لە کاتەکانی شاری سۆران دوای ئەوەی ئەوقاف بریاریدا وەکو هی هەولێربێت
تازەکردنەوەی کاتەکانی هەڵەبجە، بە پێی خشتەی نوێی بەرێوەبەرایەتی ئەوقافی هەڵەبجە
تازەکردنەوەی کاتەکانی سۆران بۆ مانگی ٥
چاککردنی هەڵەیەک لە کاتەکانی سلێمانی و دەوروبەری لە ٢١/٤
زیادکردنی خانەقین، بەرزنجە، چوارتا و قەرەداغ.
چاککردنی کاتەکانی رانیە، ئێستا وەکو لیژنەی ئەوقافە
کاتەکانی سۆرانمان تازە کردۆتەوە بۆ ئەم رەمەزانە
کاتەکانی چەمچەماڵ و رانیە مان وەکو جاران لێ کردەوە..
چاککردنی کاتی بانگەکانی سلێمانی، هەڵەبجە، دەربەندیخان، قەڵادزێ، کفری، کەلار، رانیە و چەمچەماڵ دوای گۆرانکاری
هەروەها زیادکردنی ١٢ شاری تر (پێنجوێن، سەیدسادق، هەڵەبجەی تازە، عەربەت، پیرەمەگرون، تاسلوجە، بازیان، دوکان، تەکیە، حاجی ئاوا، خەلەکان، تەقتەق)
چارەسەری کراشکردن لە هەندێک مۆبایل
Fixed the iOS 16 normal widget problem
Fixed the issue of not showing a widget in iOS 14 and 15.
The lock screen widget font size is bigger
Adding a lock screen widget
Update Asr prayer time for Chamchamal
update one time for Kirkuk
Fixed bugs
Update Chmachamal times
Add the feature for mute specific time sound
زیادکردنی شاری توزخورماتو
Added Mosul city prayer times.
Added three bangs
Fixed bugs
Fixed Hijri Calendar used in Saudi Arabia.
-زیاد کردنی ویجت
- زیادکردنی رۆژمێری هیجری
- چاککردنی کاتەکانی بانگی کۆیە
- زیاد کردنی تەسبیحات
- چاککردنی بەشی وێردەکان
- چاککردنی هەندێک کێشەی تەکنیکی

- Adding widget
- Adding Hijri calendar
- Correct the Koya payer times
- Update Azkar
- Adding Tasbihat counter
- Fixed bugs
- Adding Quran
- Adding Multi-languages (Kurdi Sorani, Kurdi Badini, Arabic)
- Adding one month prayer times
- Adding remaining time for next prayer with progress bar
- Fix bugs
Fixed the crash when having some specific regions or different time setting (12 or 24) hours
گۆرانکاریەکی تایبەتمان کردوە بۆ رەمەزانی ٢٠٢١ کە ئەمانە لەخۆ دەگرێت:
١- کاتی ماوە بۆ بەربانگ و بانگی بەیانی
٢-پیشاندانی رۆژەکانی رەمەزان
٣- ئیمساکیەی هەموو مانگی رمەزانی تێدایە
٤- رەنگی دیزاینەکە کراوەتە سەوز

Adding some features for Ramadan:
1- It will show the remaining time for the evening and morning prayer time
2- It will tell the day of Ramadan
3- Provide one month (Ramand) prayer times
4-Change color to green
چاککردنی بانگەکانی شاری کەرکوک کە گۆڕانکاری زۆریان تێدا کردوە، ئێستا بانگەکان بە پێی خشتەی تازەیە.
چاککردنی بانگی عەیشا لە زاخۆ.
Update the Kirkuk times.
Fix on time in Zaxo in 1/2
Adding different notification
Fixed bugs
- Adding Soran city
- Fixed azan #2
- Fixed about us interface
- Showing Badini text in some citis
- Fixed some mistakes in Doha
- Fixed bugs
- Fixed font size
- Fixed Bang sounds
- When you return the selected city and sound will shown
- Change some color and design
Bang بانگ FAQ
Bang بانگ is available in regions other than the following restricted countries:
Hong Kong,China
Bang بانگ supports English
Check the following list to see the minimum requirements of Bang بانگ.
iPhone
Requires iOS 10.0 or later.
iPod touch
Requires iOS 10.0 or later.