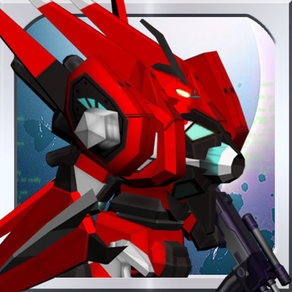 Battle 3D: Robots Sky. Screenshots
About Battle 3D: Robots Sky.
Hero Wars 2: Zombie Virus - New Game Release!!
https://itunes.apple.com/us/app/guess-what/id544632674?mt=8

NEW Stylish FPS-ACTION 3D!!
Top Apps, Visual Games, Beaver LLC.
- "Breathtaking battles will put you on the edge of your seat as they take place in 3D."
- "Awesome, Get busy as you move and shoot to seize victory!"
- "Missions unfold at a fast pace as you control and fight as various protagonist characters."
- "There's a new king in mech action games!"

---------------------------------------------
GAME FEATURES:
A shooter game with a console quality that anyone can easily play!

AUTHENTIC SHOOTER FEEL:
There is an excellent button-tapping feel as the game leverages on the multi-touch feature to maximum effect.

ATTACKING:
All upgraded weapons can be fired with a single touch.

MOVEMENT:
Freely move around in a fully-realized 3D environment as you engage in battles (up/down, left/right, forward and backward).

---------------------------------------------
ONLINE PLAY- VERSUS MODE:
-The game features online play and supports Bluetooth.
-You can fight with another player (Player Vs. Player) or fight with the computer (Computer Vs. Player).

VIEW CHANGE:
-You can switch views from first person to third person and vice versa.
-The game controls change as well when the view is switched.

-1ST PERSON VIEW: Play the game like a shooting simulator with a FPS feel.
-3RD PERSON VIEW: Play it like an authentic arcade shooter.

---------------------------------------------
THE CONVERGENCE OF RPG AND SHOOTING ACTION:
-The game offers a fresh feel and unique game mechanics.
-The stylish robot battles that take place at a fast pace overcome the limitations of a typical mech game and you can experience brilliant action.

SATISFYING HITS WITH THAT CONSOLE QUALITY:
All sorts of weapons are available, with gorgeous shooting and explosion effects, including many different types of lasers and missiles, and machine guns.

---------------------------------------------
RPG LEVEL-UP SYSTEM:
-Every time an enemy is destroyed, you earn experience points, and you can level up when you reach a certain amount of experience points.
-With the gold you obtain, you can upgrade your weapons and your robot.
-You can also obtain items, which improve your robot's performance.

AUTO TARGETING SYSTEM:
Near-by enemies are automatically targeted and locked on for attack.

INTERACTIVE OBJECTS SYSTEM:
All objects in the game, including buildings, pyramids, and meteorites can be destroyed, which give items.

ROBUST AI SYSTEM:
Featuring a robust AI system with a variety of enemy attack and defense patterns, the game will keep you on your toes for the entire time.

REALISTIC MISSILE TRAJECTORY SYSTEM:
The game features a realistic missile trajectory system, developed with the help of a dynamics expert at a university engineering department.

---------------------------------------------
MOVIE-LIKE PROGRESSION:
The game screen, story progression, camera direction and the atmospheric music will make you feel like you're watching a movie.

3D GRAPHICS AND MUSIC:
-Cartoon-style robot characters and backgrounds made from real photographs, made by the art director of Naomic Soft.
-MUSIC: Various background music by the best game and movie music composer: Akinatz.
---------------------------------------------

CAUTION: There is a risk of dropping your device because of sweats from your hands.

BATTLE 3D: ROBOTS SKY
(Check the screen shot on our company website.)
http://naomicsoft.blogspot.com/

OTHER Naomic Soft Games:
-HERO WARS
-DESTROY9
-DESTROY9-ALIEN
-BLOCK MANIA
What's New in the Latest Version 1.5
Last updated on Dec 20, 2012
Old Versions
Hero Wars 2: Zombie Virus - New Game Release!! https://itunes.apple.com/us/app/guess-what/id544632674?mt=8
Version History
Hero Wars 2: Zombie Virus - New Game Release!! https://itunes.apple.com/us/app/guess-what/id544632674?mt=8
Battle 3D: Robots Sky. FAQ
Check the following list to see the minimum requirements of Battle 3D: Robots Sky..
Battle 3D: Robots Sky. supports English
Battle 3D: Robots Sky. Alternative